Four of Middlesbrough's bin lorries have been transformed by some friendly cartoons and chat, play, read branding to encourage families to support their child's learning with simple activities.
We're also spreading some community cheer by asking families to #WaveToWorkers if they spot any of the four lorries whilst out and about; we're celebrating keyworkers as well as promoting the home learning environment. If your family spots one of the lorries while out and about, make sure you give the workers a wave and show appreciation for all of their hard work keeping Middlesbrough tidy throughout the COVID-19 lockdown period. The workers, when safe to do so, will wave straight back!
Your family can be in with a chance of winning a free Hungry Little Minds goodie bag by simply sharing a photo of one of the special refuse lorries with us. To take part, share your photo via the Middlesbrough Reads Facebook page using the hashtags #WaveToWorkers and #HungryLittleMinds or email it to us at bororeads@literacytrust.org.uk by Monday 31 August.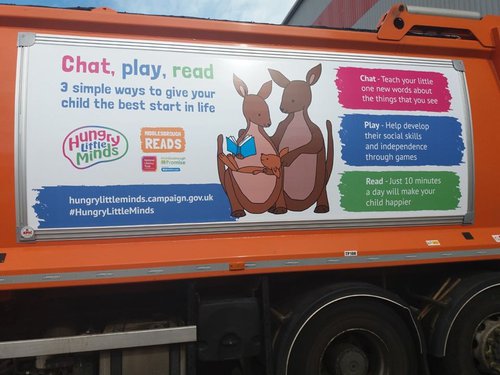 #WaveToWorkers is part of the wider Hungry Little Minds campaign, which encourages parents and carers to chat, play and read with their young children (aged 0-5) to equip them with the skills they need to start school. The campaign is being supported by Middlesbrough Reads and the local council.
Funded by the Department for Education, the Hungry Little Minds team have been working with the Middlesbrough Borough Council School Readiness team to distribute resource packs to families across the town. These free packs for children under five include a brand new book, a series of chat, play and read activities, craft materials and more to support parents and carers in their role as their child's most important educator. The campaign also joined forces with Middlesbrough Reads at the beginning of lockdown and ran a series of Roald Dahl challenges to inspire children and families to bring magical stories to life at home.
---
Anne Goodall, Hungry Little Minds Community Organiser, said: "I think this is a great way for families to learn about the campaign, have fun and get involved. Waving to workers adds a bit extra for young children and shows appreciation for the work the refuse teams do. We hope to have families sending us lots of fantastic photographs of them chatting, playing, reading and waving over the next few weeks."
James Kingett, Programme Manager for Middlesbrough Reads, said: "We've been working with families and early years professionals in Middlesbrough since 2013, but thanks to a new Facebook page and lots of creative family-friendly activities, Middlesbrough Reads has become even more recognisable during lockdown. Now we get to step it up a gear with this upbeat campaign out on the streets – improving literacy and boosting morale all at the same time."
Councillor Barrie Cooper, Middlesbrough Council's Executive Member for Education & Skills, said: "Our refuse crews are a popular sight with children and families, and as key workers they've played a really important role during lockdown. #WaveToWorkers is another chance to show our appreciation and I know young children across Middlesbrough will be keeping an eye out for the specially decorated bin wagons.
"I'm delighted that the Department for Education has funded this initiative – it's another great way to spread the Hungry Little Minds campaign message and get families reading and learning together."
---
Find out more about Hungry Little Minds
Like us on Facebook