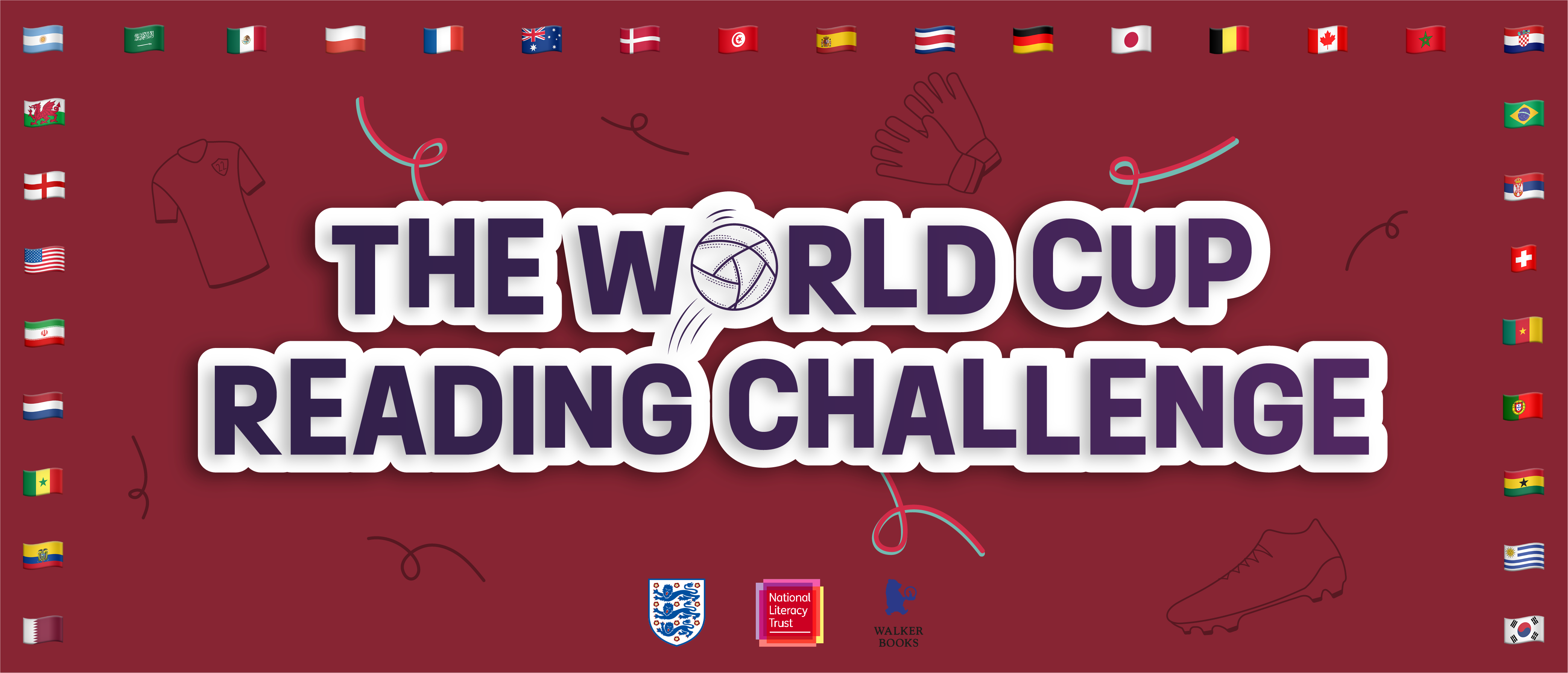 ---
Challenge completed
With the tournament over we really hope you and your pupils have enjoyed your book battles and discovered some great new titles and authors.
Although entry to the prize draw is now closed, the guidance and resources will remain accessible for schools on this page. These were designed for use with students aged 5 to 14 (Key Stages 1, 2 and 3).
We're very happy for you to continue using the resources to promote a reading culture in your school, encouraging staff and students to share recommendations with each other and champion the books you have enjoyed.
Be sure to stay up to date with new challenges by visiting our competitions and reading challenges page and ensuring you are signed up for resources and training newsletters from us.
---
About the challenge
This autumn term we've been excited to bring you fun and engaging FIFA World Cup Qatar 2022 teaching resources. These world cup activities support reading for pleasure in your school with pupils keen to read more through their love of football.
You can access:
a free World Cup Reading Challenge with suggested reading lists
Book battle examples, with top footy authors showcasing great persuasive language
a recording of our online event that marked the start of the tournament.
Taking part in the World Cup reading challenge
This challenge is easy to deliver and uses fun and interactive ways for pupils to engage with reading and different texts.
World Cup classroom ready resources can be accessed from this page. You can download:
a set of Teacher Guidelines, explaining in full how to run the challenge
the World Cup wallchart
recommended reading lists for Key Stages 1, 2 and 3
a certificate to congratulate all those pupils that participate in the challenge
The wallchart reflects the tournament fixtures and pupils 'play' in book matches against other pupils' texts - the challenge being to see which text makes it through the tournament stages to be crowned World Champions! To help model a book battle for your pupils, please watch our top authors pitch their titles for World Cup glory.
Enjoying the football and the reading challenge with your pupils? Treat yourself to more of both in the classroom via these must-see videos:
---
Discussions surrounding the host nation Qatar
As mentioned in the Teacher Guidelines, you and your students may wish to talk about the host nation Qatar and its approach to human rights, in particular diversity, inclusion and workers rights.
With thanks to our friends at BBC Match of the Day magazine, we are able to provide you with a helpful one-page summary that addresses the issues in question. This resource provides a useful framework for discussion, presenting facts and comments in an accessible way for young people.
The summary is available to download from this page along with our other resources and has been generously provided from the latest edition of BBC Match of the Day magazine.
For further information on this magazine and other publications, please visit the Immediate Media website.
---
Prize draw
The World Cup Reading Challenge ran until Wednesday 21 December 2022. Following this date we'll be looking at your book battle wallchart images, and selecting a winner at random to receive a box of books for the school. We'll be contacting the winning school in January 2023.
If you have any questions, contact competitions@literacytrust.org.uk
Our World Cup online event
Our World Cup celebration kicked off with a 30-minute fun-packed live event on Friday 18 November 2022, at 10.30.
Featuring top names from the world of football, this was a masterclass in tips and tricks to practice on the pitch, predicting possible stars of the tournament and a chance for World Cup glory as four schools battled it out pitching their favourite reads against other schools. SPOILER ALERT: the winner of the live event (you can still take part in the wider challenge - see below) was... Arskey Primary School! Congratulations. Watch the recording below or on our YouTube channel.
---

National Literacy Trust Reading Champions is supported by ALCS.
Explore useful teaching resources developed by ALCS to support understanding and communication about copyright with guides for children, young people and teachers. Watch this ALCS animation as a great starting point to helping your students understand copyright in a fun and interactive way.
Find out more about the National Reading Champions Quiz and Challenges.
---
Available files