A children's author and radio presenter from Lowestoft returned to his former primary school this week to highlight the importance of reading from a young age.
Zeb Soanes, whose fourth book Fred and the Fantastic Tub-Tub is included on this year's Summer Reading Challenge reading list, attended Northfields St Nicholas Primary as a child.
He returned to the school on Monday 18 July to give author talks to the current students and promote the annual reading challenge that runs throughout the summer holidays.
It was lovely to revisit the school after all these years. It's so important, the work that Get Suffolk Reading and the libraries are doing.

Zeb Soanes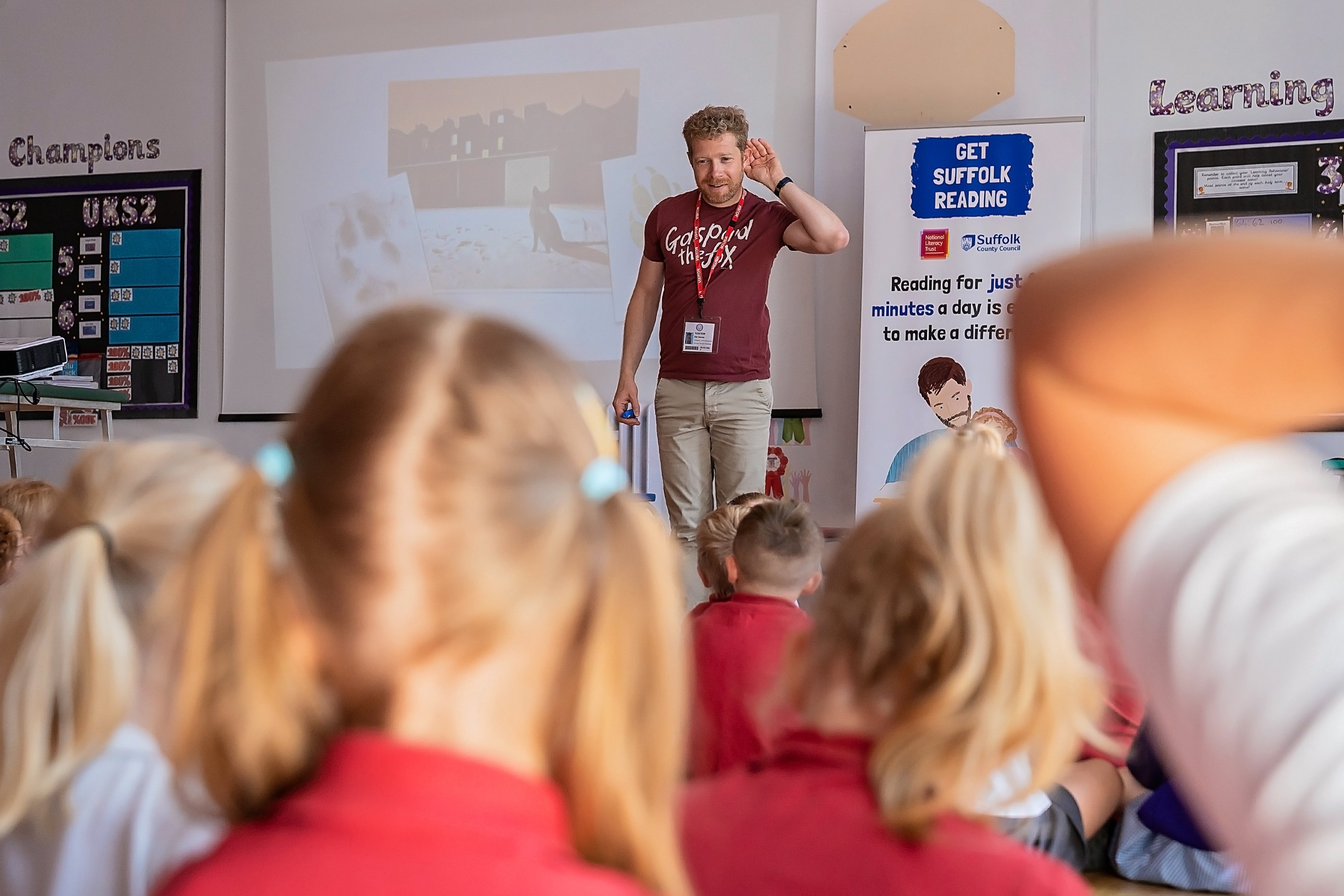 Get Suffolk Reading has helped improve pupil engagement with reading both in-school and at home and has worked alongside us a school to help further develop pupils' love for reading. To end the school year and promote Lowestoft Library's Summer Reading Challenge, we are super excited to be having two bell tents on school site which have been funded by Get Suffolk Reading. Throughout the last week of term every pupil will have a class story time session in the bell tents, which is an exciting and sensory opportunity. Together we inspire our pupils to enjoy stories and read for pleasure.

Hannah Punchard, Key Stage 1 Lead at Northfields St Nicholas Primary Academy
Upcoming story trails in Lowestoft and Kessingland further aim to encourage children and families to pledge to read six books over the summer break.
The free two-hour storytelling sessions will start at 12pm in Lowestoft on Friday 22 July and 10.30am in Kessingland on Saturday 23 July.
Prizes are on offer for those who sign up to the Summer Reading Challenge, with a certificate and medal awarded to all who complete the challenge.
It was so lovely to see Zeb return to Northfields St Nicholas and the children clearly enjoyed his presentation! We hope to share more reading inspiration with our story trails in Lowestoft and Kessingland over the weekend. Families are invited to the free storytelling sessions and should then go and sign up for the Summer Reading Challenge at the library to get a reward.

Sally Connick, Get Suffolk Reading Project Manager in Lowestoft