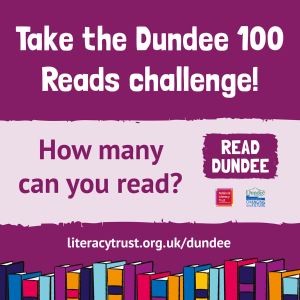 Read Dundee, our literacy campaign in the city, has announced the winner of its 100 Reads competition as Longhaugh Primary School.
Longhaugh pupils were some of the 1,500 young people across Dundee who nominated their favourite books toward Dundee 100 Reads - a booklist of 100 of the city's favourite children's books.
The list aims to encourage children to enjoy reading and to read more widely, by inspiring them to try books that have been recommended by their peers. It features books for children of all ages, from early years through to teenagers.
All Dundee schools have received a bundle of free Dundee 100 Reads leaflets and bookmarks. Children and families are encouraged to read as much of the list as they can, checking off titles as they go. The leaflet and list can also be downloaded on the buttons below.
Download the Dundee 100 Reads leaflet
Download the Dundee 100 Reads list
Longhaugh Primary School was drawn at random from the many book nominations Read Dundee collected.
Hub Manager Jenni Leigh presented the school's librarians, teacher Gillian Brady and a group of pupils, with a special book bundle as their prize. The books will join the school's library collection and be available for all pupils to borrow and read.
Jenni Leigh, Manager of Read Dundee at the National Literacy Trust, said: "Low literacy levels will hold our young people back at school, lock them out of the job market and can even affect their life expectancy. It's so inspiring to see the city supporting our young people to find the stories that could spark a passion for reading as we know that children who enjoy reading do better at school. We hope that Dundee 100 Reads will encourage hundreds more enthusiastic readers over the summer holidays and beyond."
Find out more about Dundee 100 Reads