The challenge
How can we get more young people reading, writing, and communicating well? How can stories strengthen communities? How can we engage the disengaged with literacy?
These are questions to which the National Literacy Trust has dedicated 30 years of work across the UK. Unsurprisingly, however, they are also priorities which drive organisations internationally.
Kyle Turakhia, our Hub Manager for Birmingham, introduces Story Valley, a new, free storytelling programme for secondary and post-16 settings. Kyle led the National Literacy Trust's involvement in this international project that was developed through collaboration between colleges and civic initiatives in Ljubljana (Slovenia), Leeuwarden (Netherlands), Edinburgh (Scotland) and Nottingham (England).
The project provided insightful opportunities to learn from our colleagues in other countries, and has resulted in a fantastic, free, resource which is open to all.
Beginnings
Story Valley began in the idyllic Dutch city of Leeuwarden, in the Northern Netherlands, where teachers at the vocational Friesland College were encountering challenges that will sound familiar to many.
Core literacy skills often fell out of focus for staff and students – especially in vocational courses like carpentry and costume making, in which the need for literacy is less explicit.
Traditional literacy interventions had proved ineffective – due to low student engagement with conventional schooling.
A lack of integration between students of local and migrant backgrounds – with young people from Dutch, Frisian and foreign backgrounds keeping to themselves.
Students felt disempowered to use their home language at school. This affected:

Speakers of the ancient language native to the area, Frisian, since the country's education system favoured Dutch and English.
Students from migrant backgrounds, isolated from other speakers of their mother tongue.
These interweaving issues prompted the idea that storytelling could become a tool to empower personal heritage, bring students together, and build literacy skills in a creative way. After a successful Erasmus bid, partners were sought across Europe to collaborate on the Story Valley endeavour.
Development of a teacher resource
The National Literacy Trust was brought on board to lead development of a teacher resource – designing, piloting and evaluating activities in collaboration with college staff.
Our working group, comprising teachers in a range of creative fields, proved dynamic and committed. Very quickly, this led to early pilots in a diverse range of departments:
In Leeuwarden, language teachers organised a trip to the local museum, to discover heritage stories from the local area.
In Edinburgh, lecturers devised mini-workshops to encourage students to tell personal stories about their own lives and family histories, which were explored through creative disciplines including songwriting, theatre, visual art and computing.
In Ljubljana, the college aimed to explore stories about refugees to Slovenia since the Yugoslav wars. Drawing on talks given by from people with lived experience of fleeing these conflicts the students created a newspaper based on the stories shared.
Modular Structure
The diversity of ideas explored in these pilot activities demonstrated the need for a flexible resource. We wanted a teacher pack that could be picked up in different nations, communities, colleges and departments – and in each case used to bring storytelling into the curriculum in a way which was creative, personalised and impactful.
Our solution was to devise four modules, each with sample resources and guidance, allowing teachers to fit Story Valley to their own course objectives and timelines.
Find the Story – supporting students to discover stories from the people and places around them.
Tell the Story – bridging the gap between the source material students have 'found' and the creative expression of a story.
Get Creative – in which students produce a creative outcome using stories, usually linked to their curriculum course.
Share your work – showcasing student creations using stories and creative projects as opportunities to connect with others.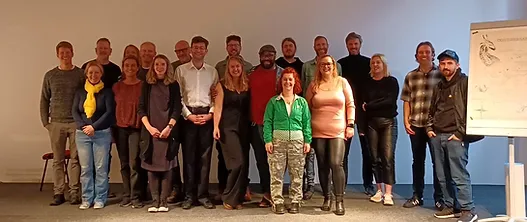 Pilots at Nottingham College and evaluation
As more and more teachers trialled delivery of Story Valley, we populated each module with pick-up-and-go lesson plans, best practice guidance, and case studies.
In spring 2023, we ran a pilot at Nottingham College, with the resource being used by teachers of hairdressing, business studies, science and creative writing, as well with young people using pastoral support.
Evaluation surveys of both student and teacher experiences and showed success against the proposed outcomes across literacy, oral history, creativity, integration between locals and migrants and engagement.
Try Story Valley in your school or college
The Story Valley website contains all of the resources developed during this productive three-year, European collaboration, and includes a helpful video introduction. It is totally free to use, and open to all.
Story Valley began as a project designed for vocational, post-16 colleges. However, the flexibility of the resources means that they can also be productively used in secondary schools as well as alternative provision settings.
Please do explore and use the Story Valley resources – and we'd love to hear how you get on!
Discover Story Valley