Cast your mind back. Can you remember how and when you learned to talk? Something as instinctive as breathing for most adults has to start somewhere but for some children, like little Jayden who will meet shortly, it doesn't always come as easily.
Being able to communicate with those around us is a vital skill that we often take for granted. It can help us in everyday life, empower us and ensure we build important relationships. If there are barriers to communication or challenges to learning, it can have a massive impact on our mood, it can create a feeling of isolation and may also make it more difficult to learn other vital life skills.
To mark our 30th year as an independent charity, we have gathered 30 stories to celebrate the many ways that life stories have been changed by three decades of the National Literacy Trust. Let us introduce you to Sharon and her youngest son, three-year-old Jayden* who live in Camborne and recently took part in the National Literacy Trust's First Words Together programme at their local nursery.
Jayden and mum Sharon's story
Jayden can be a real handful! Mum Sharon even shared with us that the toddler's wilful nature and overwhelming tendency to dictate what he wanted to happen at home could sometimes spill into extreme violence if he didn't get what he wanted. The youngest of three brothers, Jayden was also displaying controlling behaviour which made Sharon's home life more challenging.
Jayden had also started going to the local nursery twice a week where he would remain silent and choose not to speak with the staff or other children. Often described as submissive or passive, Jayden struggled to settle in and from the beginning of his time at nursery, he needed one-to-one support to help him with simple, repeated actions like moving to the snack table. It seemed that Jayden didn't want to spend time with the other children or get involved with what was going on in the room; rather he chose to sit and watch from the side lines.
National Literacy Trust's First Words Together programme was due to take place in Jayden's nursery which meant that mum Sharon and Jayden could join in with the five-session programme together. Session leaders Emma and Rachael are experts in early language development and passionate about supporting families to share books at home. Wrangling the five families for the first session, they noticed little Jayden did not want to engage in the activities but more than that, he did not want mum to join in either. It was a rocky start for Sharon and Jayden, who wouldn't let his mum try the face-to-face talking activity with him, or even allow her to look at anyone else. Nevertheless, Sharon persisted with the next First Words Together session where there was a glimmer of hope when Jayden started to engage by chatting to Emma the session leader, and even asked a couple of questions! By session three, Jayden's confidence was building and his whole demeanour had visibly changed. The little boy who had chosen to stay silent in his nursery class and who didn't engage in any setting was now able to go to the front of the group to collect the activities he needed as well as sit face-to-face with his mum to take part in the group together. By session four, Jayden was quick to get fully stuck in and make the most of the brilliant sensory activities like blowing bubbles and playing with playdough.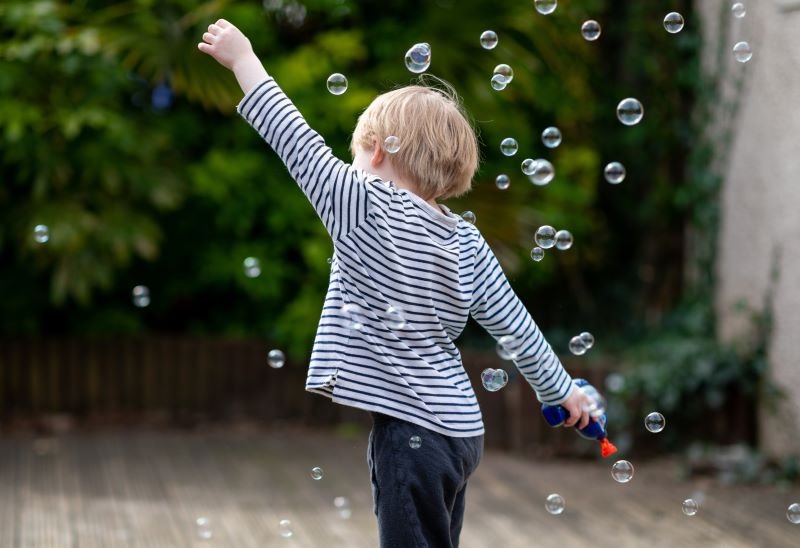 What was the impact of First Words Together for Sharon and son Jayden?
The consistency of First Words Together coupled with the ability to dedicate an uninterrupted hour with Jayden meant that Sharon could focus her attention on him and, alongside the support of Emma and Rachel the session leaders, was able to find ways to support Jayden to communicate more effectively. A triumphant moment came when Sharon was able to share with Emma and Rachel that she and Jayden had enjoyed reading a book together at home for the first time! This was just the beginning of some really encouraging changes at home as Jayden began to willingly chat more and more with his family which made a positive change to his behaviour too.
His nursery teachers have also noticed wonderful improvements in Jayden who they say has become much more confident to talk and take part and will now even start a conversation if he needs something rather than quietly becoming frustrated. Previously, Jayden might not have asked for something like a spoon to eat his yoghurt, but with the help of First Words Together sessions, he has gone from silently waiting for a spoon to appear, to voicing the word 'spoon' to building his own four-word sentence: 'I need a spoon'. Jayden is clearly better equipped to tell people what he needs which means he is able to feel more settled both in nursery and at home.
Sharon was thankful for the time she had spent with her son at First Words Together and recognised the impact that the sessions had on helping to improve her and Jayden's relationship at home. Nursery staff were thrilled at how Jayden had grown in confidence and was getting more and more engaged with all areas of nursery life which was not only vital for his own enjoyment but also gave him the important building blocks to help him learn and develop.
You can be part of changing life stories
First Words Together is a bespoke National Literacy Trust programme which focuses on babies and toddlers under the age of two. The sessions are created to give young children extra help to talk, grow in confidence and communicate more effectively with the people around them. The five-week programme also provides parents, carers and nursery professionals with additional support to have a go themselves, learn the tips and tricks to come alongside their babies and toddlers and grow in confidence themselves.
First Words Together has supported hundreds of families to give children like Jayden a voice to tell his family and nursery staff what he needs and give Sharon and Jayden the vital tools to strengthen their relationship as they navigate the everyday ups and down of family life.
You could be part of changing the life stories of children like Jayden and his mum Sharon by donating to the National Literacy Trust.
If you think you'd benefit from First Words Together, discover some helpful tips and guidance on our Words for Life website.
*Names have been changed for the purpose of this article.
#LiteracyTrust30