Reading for Pleasure on and with Screens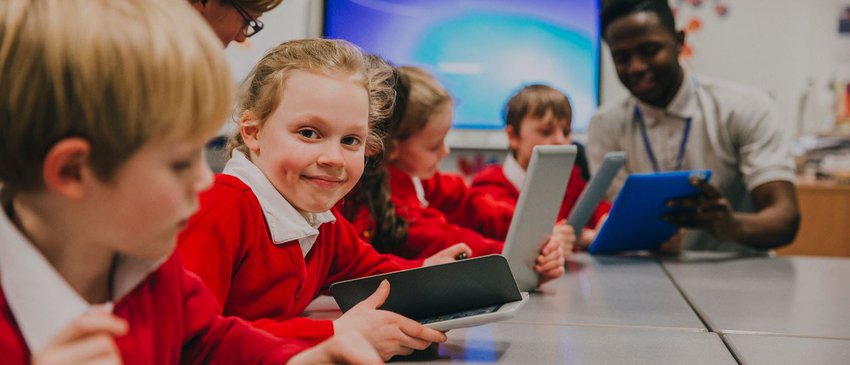 Our Reading for Pleasure on and with Screens course has been developed using research and expertise from UCL Institute of Education.
"All schools should develop policies to promote reading for enjoyment throughout school"

Ofsted, Moving English Forward, 2012
Online training
This e-learning course is free to National Literacy Trust premium members. If you don't have a premium membership yet, you can sign up for membership here.
Use this course to build knowledge and understanding of eBooks and apps and to develop strategies to use in the classroom.
Explore the latest research around reading on screens

Build your knowledge and understanding, exploring how evidence shows positive links between the use of apps and screens and reading for pleasure.

Know how to select the most appropriate digital books to use in the classroom

There are a wealth of different apps and formats available depending on your provision - learn how to identify which is the most appropriate.

Identify quality features in children's books and story-based apps

Whether interactivity or opportunities for personalisation are what you're looking for, develop ways of making the most of these opportunities

Build confidence in enriching the reading culture in your school through the use of screens

In addition to classroom practice, apps can support parental engagement and links with local libraries.
Feedback from previous participants
Speakers were very knowledgeable and able to give a wide range of research and information."
Previous participant, London, 2018
"It has helped me to feel more positive about using screens for reading."
Previous participant, Cheshire, 2020
Face-to-face training
We continue to monitor and adhere to government Covid-19 guidance regarding face-to-face training. You are invited to express an interest and we will contact you with any developments.
Our one-day workshop introduces you to a range of strategies to develop reading for pleasure in your classroom, exploring a range of strategies and collaborating with colleagues.
Develop strategies for teaching whole texts

Look at ways into a text, and how to use apps to support reading engagement.

Identify approaches to use in your own classroom

Build approaches in your own classroom and plan to cascade these in your school to help engage children with reading on and off screen.

Sustain and build on approaches after the session

Delegates will receive a printed resource with more activities to use in the classroom, and can build on their learning by completing the online course.

Discuss and explore the benefits of reading on screen

Finding useful examples and ways that will help you within the classroom to engage children with reading on and off screen in and outside of school.
Taking part in the training
Whole-school packages can be arranged, and we are happy to consult on duration, volume and cost based on the needs of your school.
For more information, and to arrange training for your school, please email Ruth King.