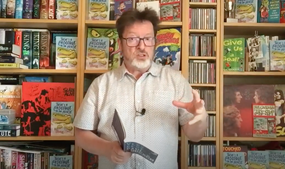 Paul Cookson is a poet and performer who has visited thousands of schools and festivals. He has over 60 titles to his name and has sold over a million books. He is the Poet In Residence for The National Football Museum.
Paul put together this collection of poetry videos for the National Literacy trust focusing on themes that will delight primary-aged children. For each theme Paul introduces and performs his poems, and then presents a step-by-step guide that will help your class generate ideas to write and perform their own poetry.
These poetry workshops provide a wonderful opportunity to discuss poetry in the classroom, help children to experiment with vocabulary, rhythm and rhyme and develop oracy skills.
Before you start, find out what your class thinks about poetry - do they love to read and write poems, or do they suspect that poetry is difficult in some way? What poems do they already know? Do poems have to rhyme?
Choose and introduce a theme from Paul's selection, then see what words the children can suggest that link with that topic. Gather any new 'wow' words to add to your word wall. After completing the workshops see if they can suggest more topics for writing poetry.
Creepy Crawlies
Performance: "There's a big bad bug in my lunchbox…"
Workshop: Now find your own inspiration from the wonderful world of mini-beasts!
Brothers and sisters
Performance: What happens when a wasp flies up your brother's shorts? How about when your sister sings?
Workshop: Paul Cookson explains how to turn real life experiences with brothers and sisters into a poem.
Football
Performance: Football for everyone!
Workshop: Paul Cookson gives an introduction to kennings as a starting point for a football poem.
Teachers
Performance: "Mrs Cox has a fox...Nesting in her sweaty socks…"
Workshop: how to write a fun poem about teachers
Disgusting stuff
Performance: disgusting poems - not for the faint-hearted
Workshop: follow Paul's steps for putting together a disgusting poem. Yuk!
---
Want to include more poetry in your teaching? Explore our Poetry lover's classroom resource and these activities for National Poetry Day.
Enjoyed these videos? Watch these performances from our favourite storytellers, poets, writers and illustrators in the Young Readers Story Club.
You might also be interested in