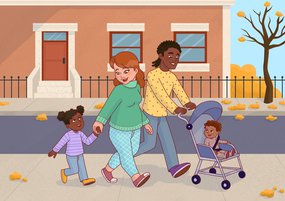 What is the walk and talk trail?
The free walk and talk trail is a set of cards designed to support parents and carers of 0 to 5-year-olds to talk and play more with their children while they are out and about engaging in their daily routine. The cards have been produced by the National Literacy Trust to support the Start for Life campaign.
Designed to be used in an urban environment, the cards provide a range of tips and activities that can be completed anywhere outside. The aim being to increase the frequency of interactions and enhance the quality of interactions between parent or carer and child.
The cards include:
Information about why it's important to talk with your baby or child.
Guidance and suggestions of things to do and talk about while out and about.
Talking tips to enhance the conversations and interactions parents have with their children.
The cards are supported and extended on Words for Life, the National Literacy Trust's family-facing website. Here, parents and carers can find further guidance and tips on spending time outside with their baby or child, and quick activities to support their conversations and interactions.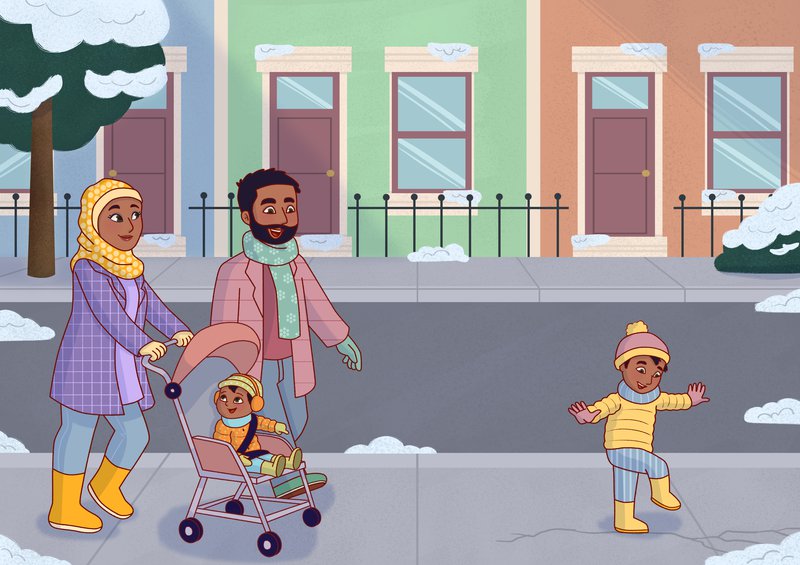 Why use the walk and talk trail?
Parents' lives are busy and despite good intentions, between the school run, food shop, and work, the opportunities to engage their child in interactive conversations and play can be limited. In addition, the ability of many parents to interact with their child will be affected by personal experiences and financial pressures. This trail makes it easy to engage with children without having to think about how to do so.
Supporting parents to find more opportunities to interact with their child within their daily routine, and offering guidance on how best to do this, will support the development of their child's language and communication skills.
The ever-changing nature of the outdoor environment provides a rich starting point for these conversations, creating natural opportunities for new vocabulary to be introduced to children.
Access walk and talk trail resources
Download the Early Years Practitioner Guide to the Walk and Talk trail and a printable version of the trail on this page.
Download the digital version of the Walk and Talk cards on Words for Life.
Download translated versions of the trail Words for Life too. The cards are available in the following languages; Albanian, Arabic, Bengali, Chinese, Czech, Polish, Portuguese, Romanian, Slovak, Spanish, Ukrainian, Urdu.
Download the digital trail cards on Words for Life!
Download files
You might also be interested in