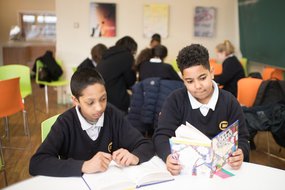 Pupils with English as an additional language now comprise nearly 21% of the primary school population in England and over 17% of the secondary population. Learners of English as an additional language at all ages face the challenge of having to do two or even three of the following:
Learning a new language
Learning the curriculum though English and maybe
Learning to read for the first time in a second language
The resources
These four resources provide teachers with the tools to understand the language and literacy development needs of this significant and varied group.
Assessment of pupils with English as an additional language
EAL assessment is more than literacy assessment as it focuses on the development of speaking and listening, reading, writing and viewing across the whole curriculum.
The three types of EAL assessment are:
Initial assessment
Snapshot EAL assessment (EAL proficiency stages)
Assessment for learning (formative)
A whole-school EAL reflection audit
Tips for drafting an audit on EAL pupils at school, including:
Creating an inclusive and supportive environment
Building an inclusive curriculum
Teaching and learning
Monitoring and evaluation
EAL glossary of terms
The specialist terms recommended by the Department for Education to be used to describe the different levels of ability of EAL learners:
New to English
Early acquisition
Developing competence
Competent
Fluent
Reading development for learners of English as an additional language
Specific issues pertinent to school-age pupils learning to read in a second or additional language:
Whole text level
Sentence level
Word level
Letter level
Download files