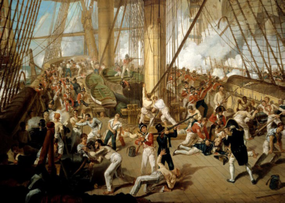 We have collaborated with National Maritime Museum to create a museum learning session and supporting resources, which link history with literacy outcomes.

This resource supports teachers to prepare for and follow up on the Trafalgar Tales session at the National Maritime Museum, which helps them to develop Key Stage 2 pupils' writing.

The museum session looks at one of the most famous naval battles of all time and equips children with the skills and motivation to create their own stories back in the classroom.
This resource includes:
An introductory writing task which challenges pupils to write a poem about the sea
A plan for the visit at the National Maritime Museum, which encourages pupils to become researchers
Prompt question cards to help pupils plan and write their stories back in the classroom
An extension resource, which tasks pupils with designing, creating and publishing their own Trafalgar Times newspaper
National curriculum links:
This resource is linked to the Key Stage 2 curriculum for both literacy and history.
Literacy: poetry, storytelling, narrative writing, non-fiction writing
History: study of an aspect or theme in British history that extends pupils' chronological knowledge beyond 1066
Download files
You might also be interested in