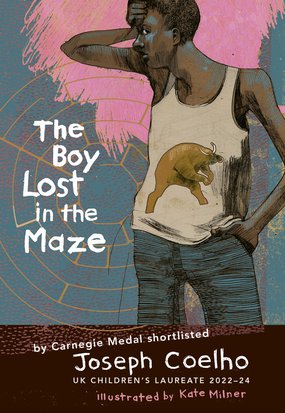 About The Boy Lost in the Maze by Waterstones Children's Laureate Joseph Coelho
In Ancient Greece Theseus makes a dangerous and courageous journey to find his father, finally meeting the Minotaur in the Labyrinth. While Theo, a modern-day teenage boy, finds himself on a maze-like quest to find his own father. Each story tells of a boy becoming a man and discovering what true manhood really means. Find out more about the book at Otter-Barry Books.
Poetry writing resources
We have created a selection of poetry writing activities for students aged 14-18 (KS4-KS5) focused on writing for enjoyment, and inspired by the mirroring of classical Greek myth with contemporary journey in Joseph Coelho's The Boy Lost in the Maze. The activities aim to demonstrate how young people can use this model to write their own poems. The resources include:
A guide for teachers with notes on how to deliver each of the three poetry activities, along with model extracts from The Boy Lost in the Maze.
A resource for students providing writing frames and prompts.
All the resources are free to download in the files section on this page.
Download files
You might also be interested in