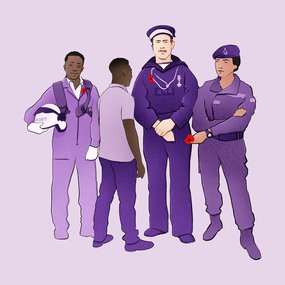 Stories for Remembrance - Who, How and Why We Remember
In partnership with the Royal British Legion we've developed new resources based on a range of fiction and non-fiction extracts, to help you explore Remembrance through a book club and discussions with your Key Stage 3 students. We've chosen extracts from:
When The World Was Ours by Liz Kessler
Shipmates by Tony Bradman
Black and British by David Olusoga (non-fiction text)
Heroic by Phil Earle
The Enigma Game by Elizabeth Wein
Our Castle by the Sea by Lucy Strange
Mohinder's War by Bali Rai
Night Watch by Terry Pratchett
Showcasing experiences from past and present conflicts, these extracts explore different attitudes and perspectives, helping children understand the connection between service and sacrifice, and Remembrance. Our accompanying resources aim to develop pupils' core reading comprehension skills, whilst also providing the opportunity to reflect on the theme of Remembrance and its relevance to our lives today.
The resources include
A teacher guide with suggestions for introducing the book and structuring book club sessions
Details of how these resources link to the National Curriculum in England (Year 7, 8 and 9 English Programme of Study) and the support they offer to pupils in understanding and appreciating diversity, celebrating commonalities and promoting respect
Information about the historical context, with links for further insight and exploration
Discussion questions and extract activities which provide an opportunity for pupils to reflect on the service and sacrifice of the armed forces and civilians across the UK, Commonwealth and Allied Nations, and to consider how we are united across time and distance by our shared Remembrance heritage
Download the teacher guide, extract discussion questions and activities from the available files section of this page.
---
Further remembrance resources

The National Literacy Trust has worked with the Royal British Legion to develop a wide range of additional resources across Key Stages 1 to 5. These include assemblies, ideas for exploring Remembrance through a whole-school project, as well as book club and creative writing activities.
Resources are also available in Welsh.
You can download all these resources for free from the Royal British Legion's Teaching Remembrance pages.
Download files
You might also be interested in