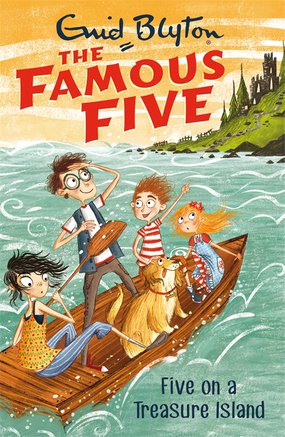 In 2017 we worked with Enid Blyton Entertainment to deliver a special version of our Reading for Pleasure CPD in celebration of 75 years of the Famous Five.
This taster resource is based around Five On A Treasure Island, and is a guide to a popular exercise from our Reading for Pleasure training. The resources focuses on how you can take a page from the middle of a book to prompt discussion, inspire activities and build anticipation when teaching a whole text to a class.
The resources includes:
An extract from page 75 of Five On A Treasure Island by Enid Blyton
Suggestions for activities to get your class thinking in more detail about the text
Suggested questions and topics to explore with the class
Follow-up activities you could run in school to build on the book's themes
---
This exercise is taken from our Reading for Pleasure CPD, which explores the link between a love of reading and attainment. The course helps teachers and literacy leaders working in Key Stages 1, 2 and 3 to drive an improved reading culture across their school.
The CPD is available in 1, 1.5 and 3-day versions. Take a look at our upcoming eventsto see if any are running in your area.
Download file