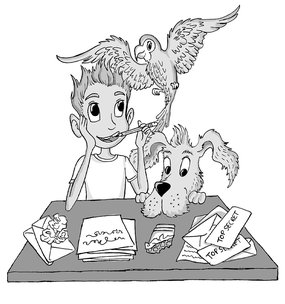 A flexible, fun, space themed activity based on the entertaining and informative Jasper Space Dog by Hilary Robinson. The perfect way to have some fun at the end of a summer term and celebrate the July anniversary of the Apollo 11 first-ever moon landing.
Invite your pupils to join Charlie Tanner and his adventurous and imaginative dog Jasper in asking their very own questions about the historic moon landing over 50 years ago. Charlie and Jasper write top‑secret letters to Rocket Scientist, Isabella Starr with all their weird and wonderful questions. She, in reply, tells them all they need to know – and more – about that amazing Apollo 11 mission. But what would your pupils like to know?
This easy-to-use resource encourages pupils to write their own inquiry letters, to research and answer their fellow pupils' letters, and, at the same time, to find out more about Apollo 11 and all things space-related.
The resource is designed to be used flexibly. Work as a whole class or even use it as a great transition-day activity across different classes and year groups. The book, although aimed at emergent independent readers, is the perfect length to read in one go and has facts and information all pupils will find fascinating.
The resource includes
A teacher activity guide
A letter template
Download files
You might also be interested in