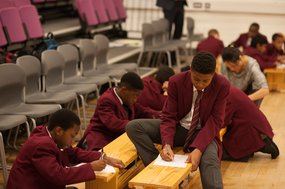 Thank you for taking part in this professional development programme for improving writing quality in Key Stage 2. Here you can find all the relevant documents from the course that you can use to support your work in school, including a copy of the manual for you to download and share with colleagues, planning and charting sheets, and sample pieces of writing in each text type which you can use with your class.

Day 1 - There is nothing you need to prepare before the first session. By the end of the day you will have improved your understanding of the IPEELL approach to improving writing quality, and hopefully will have thought about how you might use it with your class.

Day 2 - Bring examples of one pupil's initial task and their final piece of writing in whichever text type you have been learning.

Additional resources
If you would like to purchase additional copies of the IPEELL folder you received on the training you can do so for £20 per copy including postage. To order copies, or if you have any questions, please email schools@literacytrust.org.uk or call us on 020 7587 3067.

Download files
You might also be interested in