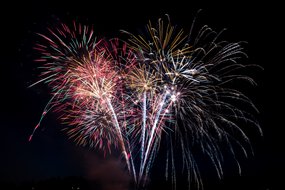 Dark nights sat around a roaring fire, cold nights in cosy attire, skies filled with colourful lights, it's time for friends and bonfire night
At the start of November, the nights are dark and cold, last week's pumpkins are no more, and thoughts turn to festive fireworks. What better opportunity to engage with literacy than to explore firework festivals and bonfire tales?
Using our fireworks and festivals resource
Whether you're celebrating Diwali or remembering Guy Fawkes and the infamous gun-powder plot, this free hot topic resource for primary schools provides ideas for bringing the themes of fireworks and festivals into your classroom:
Ideas for books which are perfect to read aloud with children aged 5 to 14 (KS1/First level to KS3/Third level)
Suggestions for speaking and listening activities including oral storytelling and performance poetry
Ideas for writing linked to the theme including a fun grammar game to help pupils to revise word classes
The activities are designed to be adaptable for teachers working across different age ranges, and for the time you have available.
Find similar resources
Explore our range of hot topic resources packed with inspiration for activities that embed literacy skills by building on events or interests that have hooked your pupils' attention.
Find more teaching activities linked to calendar moments and awareness days with our schools literacy teaching calendar.
Download file
You might also be interested in