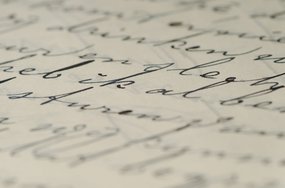 Why should children learn to handwrite? And how can you help to develop positive attitudes towards this vital life skill?
In a world that is increasingly relying on technology to communicate, this toolkit has been written to provide a rationale for developing children's self-perception as handwriters.
It suggests a range of classroom activities structured around a two to three week unit of work, which will enable children to value this ancient skill, in turn supporting the development of their handwriting.
How will this toolkit support your pupils' handwriting?
What it doesn't do is focus on the technical detail of letter formation. Nor does it review handwriting schemes or whole-school handwriting policies. (For support in these areas visit the National Handwriting Association).
Instead, this toolkit will provide you with ideas for activities which will help to develop your pupils' attitudes to handwriting, so that they see the value of their own handwriting. Where there are issues, they will be motivated to make the improvements needed for their handwriting to become legible, fluent and executed quickly.
What is included?
Toolkit introduction and rationale
Toolkit unit of work
Download files
You might also be interested in