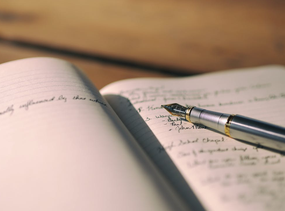 These grammar for writing resources are designed to help guide secondary teachers on how to teach grammar, and keep them up to date with the research and knowledge about grammar in context.
The resources include:
PDF resources
An overview of Exeter University's grammar for writing research and subject pedagogy about the teaching of grammar
A tour of the eight word classes, introducing grammatical knowledge for teaching writing. It illustrates how each type of word functions in a sentence and suggests straightforward ways of defining each word class and covers:

Nouns
Adjectives
Determiners
Pronouns
Verbs
Adverbs
Prepositions
Conjunctions


Words and phrases, clauses and complex sentences:

Words
Phrases, e.g. verb phrases, adjectival and adverbial phrases
Clauses, sentences, multi-clause sentences
Punctuation
PowerPoint resource
A short PowerPoint which explains and illustrates sentence, clause and phrase features.
Debra Myhill's recent research into grammar for writing at Exeter University suggests there is a gap in teacher knowledge about how language works in context.
Download files
You might also be interested in