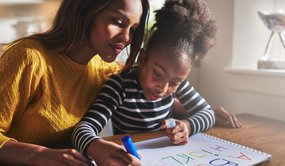 These resources are only available to schools and settings once they have undertaken Everyone Ready for School training. If you are not participating in the programme but are interested in doing so in the future, contact the Early Years team.
---
This page contains all the resources you will need to run your Everyone Ready for School programme. The resources complement the materials received at your training day.

Please note that these resources will continue to be developed, adapted and added to, so it is important that you check them regularly.

Best practice examples will be shared as they are developed. If you feel others could benefit from examples of what you have been doing in your setting, please contact ewt@literacytrust.org.uk.

Below is a brief description of each resource.
Staff training
Staff training presentation: the PowerPoint presentation used in the staff training
Everyone Ready for School delivery guide
A digital version of the guide you received at training. This includes a checklist and action plan with good practice ideas for being a ready school, and thorough plans to support delivery of family sessions
Everyone Ready for School: home booklet
A clear and simple booklet for parents with fun activities to help their child learn and be ready for school
Case study template
Complete the case study to capture your learning as a practitioner, and your observations of a family's journey. Please ask parents to complete the National Literacy Trust permission form if you would include photos of volunteers, parents and children in your case study.
Parents survey
A survey for parents to complete during the last session to reflect on the impact of the programme for them and their child, to identify changed behaviours at home to develop the home learning environment and improve school readiness following taking part in Everyone Ready for School. Practitioners are to print out the survey for each family and support with reading questions and scribe answers as appropriate.
Progress report
Please complete this progress report after your sessions have finished in the Summer term.
Please contact ewt@literacytrust.org.uk with any questions you have about the programme or resources.
Download files
You might also be interested in