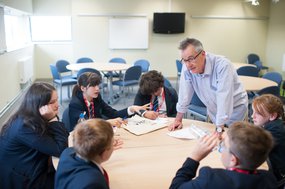 This resource sets out techniques and activities to help secondary students improve their listening skills.
Alongside reading, writing and speaking, listening is a vital literacy skill. It is the form of communication that children and adults use the most, but children and young people are rarely taught techniques at school for how to listen well.
This resource will:
Help teachers understand why it is important for students to have good listening skills
Build teachers' knowledge about the different types of listening skills, including active listening and asking questions
Provide teachers with a range of exciting activities designed to teach students active listening techniques, as well as help them practise and improve these key skills
If you are interested in developing literacy further across your school, take a look at our training and CPD courses or email schools@literacytrust.org.uk for more information.
Download file
You might also be interested in