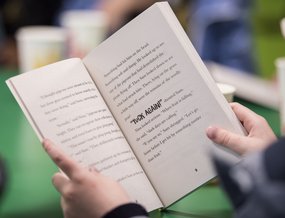 Introducing a new book to a class can be intimidating, particularly with reluctant readers.
This resource encourages children to use their detective skills in exploring a passage of text and to develop questioning techniques, express tentative thoughts, apply inference and interpretation skills, build on one another's contributions, and create a buzz of excitement around the new book.
The resource includes:
Advice on introducing the book to your class through a taster activity
Prompts for questions to explore their first impressions and interpretations
Tips for revisiting and revising these impressions when you return to the book
---
This activity is drawn from our Reading for Pleasure CPD, which explores the link between a love of reading and attainment. The course helps teachers and literacy leaders working in Key Stages 1, 2 and 3 to drive an improved reading culture across their school. Contact schools@literacytrust.org.uk for more information.
Download file
You might also be interested in