Visiting L'Oréal HQ for Citizen's Day
In June 2022, we took 48 young women within the Women in Leadership programme into the L'Oréal HQ as part of their Citizen's Day event. The event gave students an opportunity to engage with over 30 employees across the business, who were supporting the activities as volunteers.
Young women from schools across South London joined us on the day to take part in a variety of activities designed to support skills essential to the world of work.
The students started the day with a welcome presentation, where they heard from staff across various business functions and found out a little bit more about the day ahead.
This swiftly led into an office tour of L'Oréal HQ led by business volunteers from Lancôme. During the tour, students got to see the main areas of the office and learn more about each key business function. This provided the students with exposure to a professional working environment, many for the first time, and gave them a deeper understanding of how a beauty brand operates.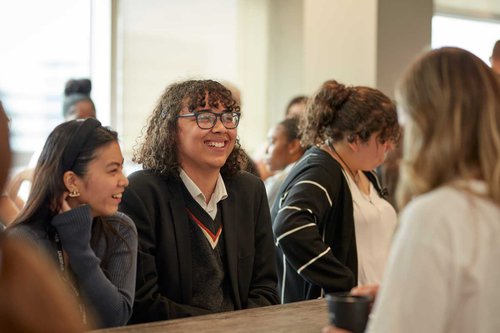 "The office tour was inspiring and allowed me to explore the business world and see how literacy is used in every aspect of a job," said one student.
Following the tour, the students and business volunteers took part in a speed networking session. The students used their questioning and active listening skills while learning all about the business volunteers' roles and careers, and asking for advice on employability skills. The volunteers could also use this time to find out a little more about the students and their aspirations for the future.
The students had a great time gaining more understanding of the different roles available in the beauty industry and how each role works with each other.
"I thought the workshop was insightful in understanding how it is like in a working environment. It helped me boost my confidence and consider different paths for the future."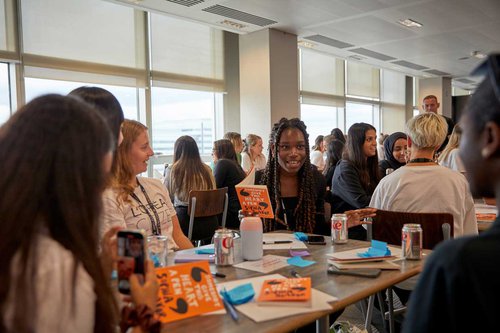 Poetry workshop with poet Sophia Thakur
After lunch, award-winning performance poet and author, Sophia Thakur, gave a talk and performance to the group. Afterwards, Sophia ran a workshop with the students and business volunteers designed to help them with writing a piece of poetry. The students worked on pieces focused around their identity, with support from the business volunteers, and were then invited to perform these to their peers. Even though this group of students did not all know each other, some students bravely overcame their fears and performed their pieces to the group.
Students were all gifted a copy of Sophia's book, Somebody Give This Heart a Pen and even had a chance for Sophia to sign them.
The students and volunteers loved the workshops and activities as part of this day and it was clear to see how it had an impact on the students.
"It was a really fulfilling day. I loved seeing the confidence of the girls grow from walking into the building to standing up and reading out their poetry. Incredibly inspiring."

Lancôme business volunteer
Find out more about Words for Work: Women in Leadership