In March 2022, we held our first in-person Women in Leadership panel event since the pandemic at Harris Academy Peckham. Our Words for Work: Women in Leadership programme, in partnership with Lancôme, aims to challenge inequalities in employment opportunities for young women in post-16 education.
Young women from across the Harris Academy schools joined us on the day to hear from a panel of amazing and inspiring women leaders. We were joined by Cara Conquest, Sales Director at Penguin Random House, Deveshi Patel Associate at Browne Jacobson, Josephine Jengo, Projects Manager and Women in Parliament Lead at Commonwealth Parliamentary Associate UK, Madeleine Macey, Chief Marketing Office at Home at Liberty, Siobhan Wight, Group Marketing Manager at Immediate Media Co and Victoria Azubuike, CEO of the Us Group. Together they brought a wealth of experiences and advice for our students, shared their journeys as women in leadership and gave the young women an insight into the importance of literacy and communication in the workplace.
Deveshi Patel, Associate at Browne Jacobson said:
"After hearing the student speeches and speaking to some of the students, I left the event feeling really positive and inspired by the students and it was great to see so many confident young women. Thank you, The National Literacy Trust, for inviting me to join the panel and for hosting this event, which is clearly so beneficial for the students."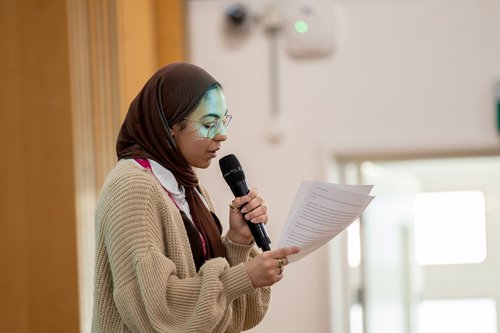 The students had the opportunity to do a reflection activity on their hopes and fears for the future before three brave young women volunteered to share the amazing and motivational speeches they had been working on as part of the Women in Leadership programme. The young women had worked extremely hard on their speeches and their presentation skills and this clearly showed. Then we heard from our exceptional panellists talking all things work, leadership, confidence and literacy before we wrapped up the event with final thoughts and a chance to speak to the panellists before leaving.
One student said, "I thought today was a great day of learning the challenges and obstacles these women have faces in order to get to where they are today which has inspired me. If you work hard and believe in yourself, you can get to where you want to be".
Another student used the day to reflect on their own challenges "I have been thinking about giving up my dream career because I think I am not good enough. I love designing but my drawing is really bad so I have this fear. But now I am going to work hard and I won't care about being rejected".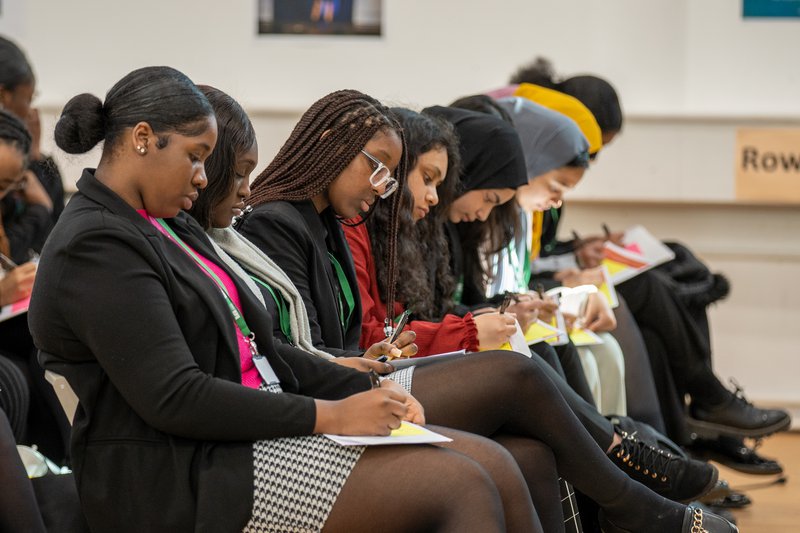 Find out more about Words for Work: Women in Leadership