Year 10 classroom workshop with Browne Jacobson LLP
In the summer term 2023, we took volunteers from Browne Jacobson LLP to meet students in year 10 at The East Manchester Academy. During the classroom visit the students had the opportunity to ask the volunteers about their job roles and career journeys and were surprised at the variety of opportunities and pathways available to get into law. The volunteers explained how they use communication and literacy skills to be successful in their job roles and the students were very engaged in the session, asking insightful questions and showing a keen interest in the working days of the volunteers.
Literacy skills workshops
The students spent the following three weeks developing their formal literacy skills using resources developed and supplied by the National Literacy Trust. The school selected from the optional module content to work on students' interview skills and spent time at school preparing students for a mock interview at the end of the programme.
"I really enjoyed it and it was a useful experience to help me find out more about the opportunities in law which is something I might consider for a future career now."

Student, Words for Work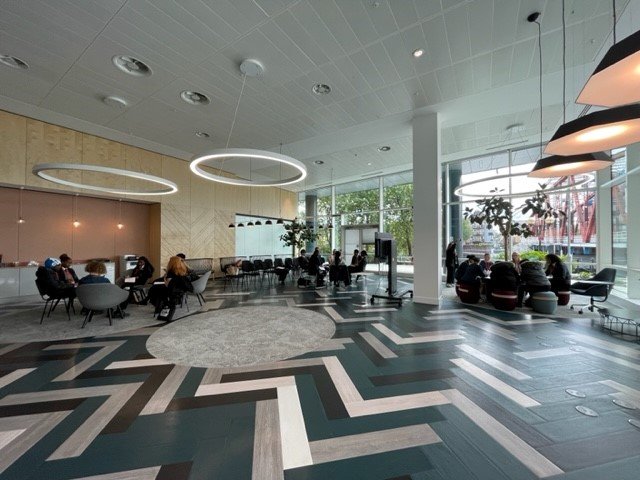 Business mentoring with Browne Jacobson LLP at Bupa
Bupa at Bupa Place, Salford Quays very kindly hosted the final Words for Work session. Staff at Bupa gave an interesting introductory talk about the job opportunities available and how important literacy skills are, highlighting specific examples such as speaking professionally on calls, listening to people to attain the correct information, reading for relevant information and writing clearly to record actions taken. The students were taken on a tour of the office and were particularly impressed that they had a games area for staff to enjoy. The main activity of the morning was for students to demonstrate their interview skills and the volunteers from Browne Jacobson very kindly led the students through short interviews, giving them feedback on their performances and how they could further improve.
"I have been involved in various Words for Work projects over the past few years and I always find them really enjoyable and rewarding and feel that they are making a real impact on the students who participate."

Volunteer, Words for Work