Lane End Primary School in Leeds have been taking part in our Early Words Together programme, designed specifically for use with multi-lingual families, for the past eight months.
Through Early Words Together, we train early years staff and volunteers to run activity sessions with parents and children aged three to five, building parents' confidence so that they can support their children's communication, language and literacy skills at home.
The programme has had a particular impact on one child in Lane End's Reception class, Diksan. Diksan and his parents have been in England for four years - they are originally from India and their home language is Bengali.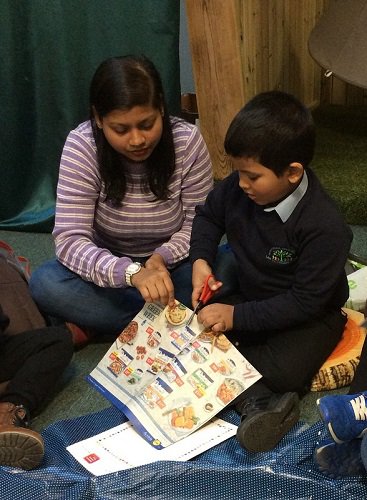 Lane End staff themed each Early Words Together session around popular children's books, including We're Going On A Bear Hunt and Dear Zoo. Diksan came along to the sessions with his mum, Kuhu, and they took part in all the activities in the sessions together. Kuhu also took ideas from the sessions home and they completed them together as a family.
As Diksan has spent most of his life in England, he is more confident with English, so during the sessions the family used English. However, at home they speak to him in both Bengali and English and the staff emphasised the importance of this to the family.
As the sessions progressed, Kuhu felt more confident and started giving Diksan more independence, allowing him to lead the activities and use the tools without support. The sessions were very useful for her as the education system in India is very different to England, and she wanted to know the best ways to help Diksan learn. She told staff at Lane End that she feels much more confident supporting Diksan, and now knows what to do when they read a story together.
Kuhu also noticed a change in Diksan, saying he was much more excited about reading stories now and even completing school work. He now talks about the school staff and the activities he does at school all the time!