Catch Up® Literacy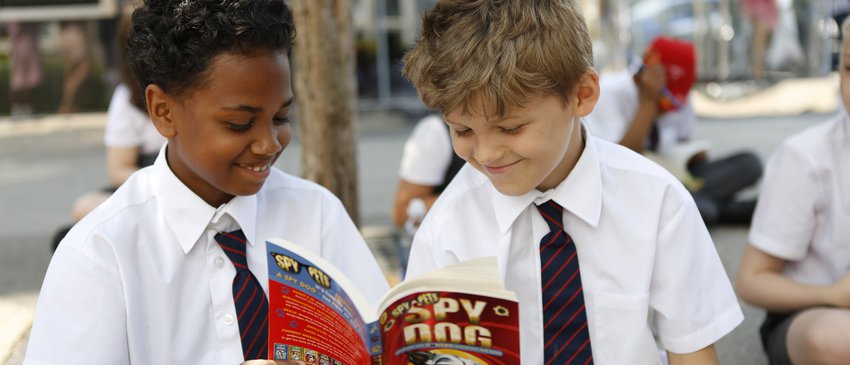 Catch Up® Literacy is a structured, one-to-one intervention proven to more than double rates of progress for learners who struggle with literacy. It involves 15-minute individual sessions delivered twice a week by trained teaching assistants, teachers or mentors.
Catch Up® Literacy uses a book-based approach to support learners in their reading of a book so they activate both dimensions of reading – word recognition processes (including phonics) and language comprehension processes.
Visit the website at www.catchup.org for more information about the intervention and our training and support package or click the link below to sign up to a FREE information webinar.
Catch Up® offers an integrated training, resource and support package for the intervention, including all the guidance and supporting materials needed to deliver and manage it in your school.

National Literacy Trust members are currently offered a special discounted rate of £399* for individual training places (usual price £450). For more information on how to claim this discount visit our Membership Partner Discounts page.
For a list of online training dates, please visit the find training page on the Catch Up® website. Contact Catch Up® for more details.
Learners and schools say:
"I actually go into the library and get books out - even on weekends. I actually sit down and read them, not chuck them around the room!"
"My reading's much better than it was last time. I'm able to understand words and split them up to read them."
Child A had 32 Catch Up® sessions throughout the year, and made 28 months' gain in his reading age, which is a ratio gain of 3.46 based on the period of intervention. His reading age is now 8 years and 6 months – 9 months above his chronological age.

Request a copy of the full information brochure here.

*National Literacy Trust member offer terms: Prices and codes valid for online training courses taking place before the end of December 2023. Places subject to availability.
Sign up to a free information webinar