The winners of our Reading Adventures postcard competition have been announced!
In July, Swindon Stories teamed up with Great Western Railway (GWR) to launch the Reading Adventures competition to support children's transition from primary to secondary school in Swindon.
One winner and two runners up, from Holy Cross Catholic Primary School, were picked from the brilliant entries and were gifted a drama workshop with Prime Theatre and visit to the STEAM - Museum of the Great Western Railway.
In this challenge, pupils were asked to create an imaginary land and write a postcard about their first exploration of it; describing new friends they met, the sights they saw and any discoveries they made.
They were invited to become the first person to ever step into a magic world of their own creation and encouraged to explore the world around them through their imagination.
Reading Adventures included three book giveaway events at popular locations around the town to promote reading for pleasure in Key Stage 2 children. With attendance from Swindon Libraries and Swindon Borough Council at the giveaways, families were given the chance to learn more about their local library and the positive impact it has on their child's learning.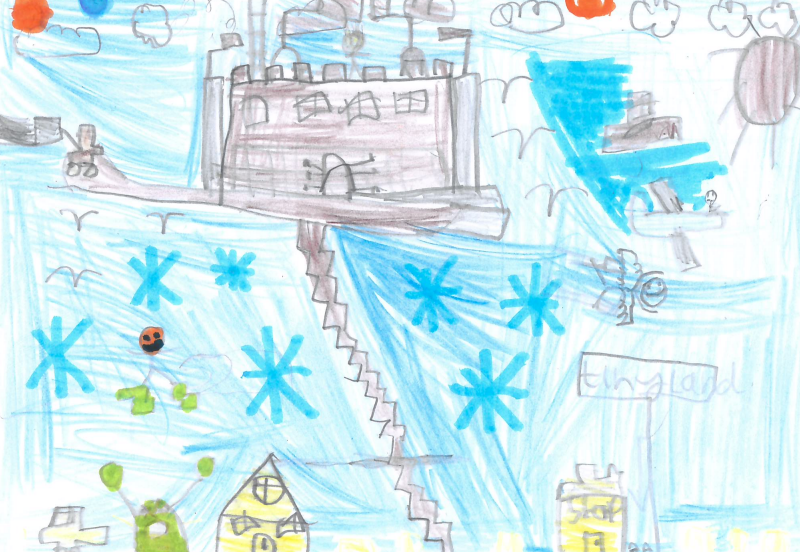 Alongside receiving books, school pupils took home a bespoke booklet packed with literacy-based activities and a great outdoors booklist to inspire a summer of reading.
Winner of the competition Jonathan Fernandes wrote about a lucky pair of boots to fight off flying chocolate goblins and was gifted a family ticket to Weston-super-Mare.
He said: "I drew a castle where my friend lives. Inside the castle, he plays lots of fun games and eats lots of chocolate!"
Sam Dowdeswell, Deputy Head of Holycross Catholic Primary School, said: "This competition was a lovely opportunity for children to get creative and invent their own imaginary land.
"It was fantastic to see them draw upon settings and worlds they have experienced through books.
"They used stories they had read or heard, and incorporated aspects of these within their own fantasy land."
Teacher Mrs Stewart added: "The children were delighted to have won and are really looking forward to attending the drama workshop at STEAM."
Key-stage 4 runner-up Shaun Fernandes said: "I was inspired to create a modern land and included lots of treasure, such as jewels and crowns.
"I put flags on the castle and there were crowns on the flags. I really enjoyed designing my own land and would like to live there."
Second runner-up Jason Gurung designed a fantasy land full of friendly ghosts who enjoy 'hanging around the hotel and playing tag with the kids'.
GWR Community Manager Emma Morris said: "We were delighted to partner with the National Literacy Trust for the GWR Reading Adventures Project and it has been brilliant to read such a wealth of creative stories.
"We wanted children to let their imaginations travel and they haven't disappointed. Jonathan's story about a lucky pair of boots."
Thank you so much to everyone who took part in the Reading Adventures competition and congratulations again to our winner and the runners up!