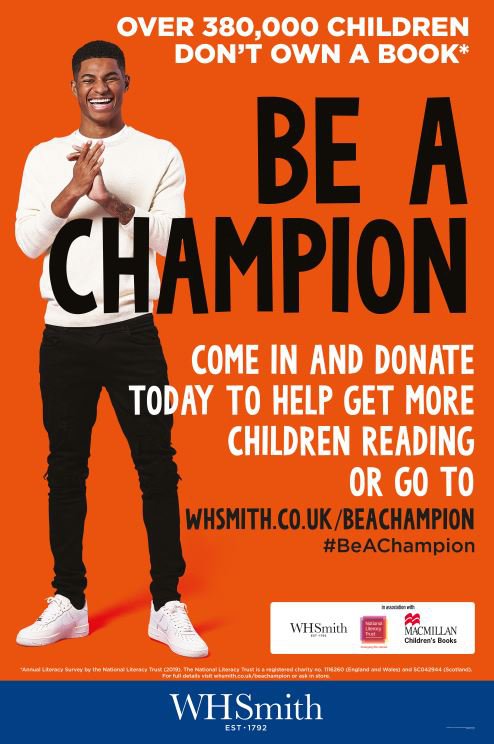 We're delighted to announce a new partnership with WHSmith and Macmillan Children's Books, supported by England and Manchester United Football player Marcus Rashford MBE, to gift copies of Marcus' new book to children who don't have a book of their own.
From today, WHSmith will gift a copy of Marcus Rashford's book, 'You are a Champion: How to Be The Best You Can Be' for every copy pre-ordered or sold, to accelerate getting more books into the hands of children that need them.
These gifted copies will be distributed through our Hub areas where literacy support is needed most.
This is Marcus' first book, written with Carl Anka. It is an inspiring, empowering and practical guide to life for children aged 10 years plus and is the book which Marcus wishes he had been able to read as a child.
WHSmith customers will also be able to donate money at any WHSmith store across the UK at the till point or online. All the proceeds will be donated to the National Literacy Trust to help us reach the 380,000 children who do not own a book of their own.
Marcus Rashford MBE, said: "Enjoying reading can't just be a privilege; all children should be able to access books, no matter what their background. Having good literacy skills supports children to succeed in life and everyone should have the opportunity to discover a love of reading.
"This last year has shown us just what we can achieve when we work together. By joining forces with WHSmith and the National Literacy Trust we are giving everyone the best opportunity to get involved in supporting getting every child reading. There's a WHSmith on nearly every high street in the UK, they're online and also in major travel hubs so we're making this really accessible and would encourage everyone who is able to, to get involved. Everyone can play a role, big or small."
WHSmith have a long legacy of championing children's literacy, having partnered with the National Literacy Trust for over 15 years. Through our programmes and support for our work, WHSmith have already gifted over 76,000 books across the UK through school and instore events which have supported children with their reading and writing.
What's more, WHSmith will also be hosting a digital event for the launch of 'You Are a Champion: How to Be The Best You Can Be' on Thursday 27 May with an exclusive interview with Marcus Rashford MBE hosted by co-author of the book, Carl Anka.
1,500 free tickets will be distributed to schools in areas of disadvantage across the UK and 1,500 copies of the book will be donated to these schools for their libraries.
WHSmith customers will also be able to get a ticket to watch the interview on demand when they buy a copy of the book instore and online.
To put your school forward for the chance to receive a free copy of the book and ticket to the online event, please enter your details here.
Jonathan Douglas CBE, Chief Executive at National Literacy Trust, said: "Marcus Rashford is an extraordinary campaigner of the societal imbalances that can have a lifelong impact on disadvantaged children. We hope this brilliant WHSmith initiative, in partnership with Macmillan Children's Books and the National Literacy Trust, will make essential steps in addressing one of the key barriers to literacy and learning. We're hugely grateful to both organisations for the opportunity to gift children in our Hub areas with copies of 'You Are A Champion: How to Be The Best You Can Be' – for some, this may be the first book they'll ever own."