Pupils from schools across the UK came together this week to take part in our first ever Skills Academy celebration day. The day was designed to recognise their achievements taking part in the programme.
Skills Academy is our reading programme which uses how-to videos of football tricks and online challenges to help students improve their reading comprehension skills. Year 7, 8 and 9 students from schools in Essex, Bristol, Leicester and Bridgend in Wales were treated to a series of fun workshops at Ashton Gate, Bristol City FC's stadium.
Jamie Knight, professional freestyle footballer and star of the Skills Academy instructional videos, was on hand to give skills workshops to the students, while Tom Palmer, top football author, took the students through a sport and literacy quiz, followed by a penalty shootout.
The students also got a full tour of Ashton Gate from Dan White, CEO of the Bristol City Community Trust.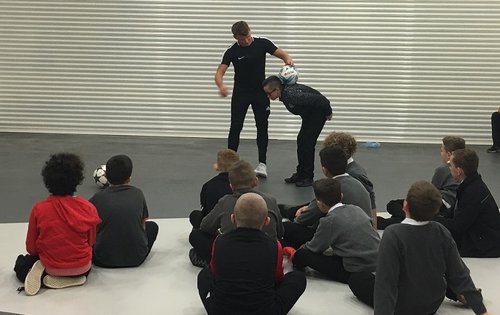 After the activities, students from each school tested out the football skills they'd learnt through Skills Academy in a freestyle battle, judged by Jamie Knight. The winner, Alfie Horan from Robert Clack School in Dagenham, had also made significant progress with his reading, increasing his reading age by three years since taking part in the programme.
Each school also nominated a 'most improved' student to be presented with a special certificate by Tom Palmer at the end of the day. 
"It was a brilliant day," said Jim Sells, our sport and literacy programme manager. "It was wonderful to see all the students showing off the skills they'd learnt through Skills Academy, and even better to hear from them and their teachers about how much their reading had improved since taking part in the programme. There have been some amazing results and it was great to be able to celebrate all the students' achievements."
Find out more about Skills Academy.