We published new research into diversity in children's literature as part of our Christmas fundraising campaign alongside 12 authors and illustrators, contributing to a new booklist which champions representation in children's literature.
Our survey of over 58,000 UK children and young people found that:
Almost a third (32.7%) of children and young people between 9 and 18 don't see themselves in what they read – and two fifths (39.8%) would like to read more books with characters similar to them.
More children and young people from ethnic minority backgrounds don't see themselves in what they read (40%) compared to white backgrounds (30.5%).
45.6% of children and young people from Black ethnic backgrounds struggled to find books where characters looked like them.
44.3% of children and young people who identify as neither a boy nor a girl find it difficult to see themselves in literature, compared to 32.7% of boys and 32.5% of girls.
The issue is particularly pronounced when children are younger: 42% of 9 to 11 year-olds are unable to identify with characters in books, and this halves to 20.2% of 16 to 18-year-olds.
The struggle to find characters who look similar, or share similar characteristics or circumstances, can impact a child's engagement with reading and its life-long benefits.
Just one book a child really connects with can spark a love of reading which can change their life story and help them to succeed in school and in life.
How can you help support our work this Christmas?
Donate:
Help support our Christmas fundraising appeal, donating £7 can help us increase access to books children can see themselves in and change their life stories.
You can also make a donation of £7 by texting GIFTOFREADING to 70490 (this costs £7 + a standard message rate), or donate directly at literacytrust.org.uk/christmas .
This year has been especially tough on disadvantaged children and by donating to the National Literacy Trust this Christmas you can set a child on the path to a brighter future.
Purchase Christmas cards designed by children all over the UK:
Following on from our national Christmas card design competition, which saw hundreds of entries, the top 12 Christmas card designs by children across the country are available to buy now, via Making a Difference.
The overall winning design, judged by illustrator and creator Dapo Adeola, was by Nuala, aged 10 from High Wycombe who will receive new books for her school and a special visit from Dapo Adeola! Here is her winning design: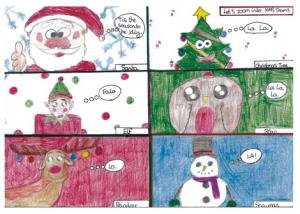 By purchasing these cards designed by children from across the UK, you can help spark a love of reading for a lifetime.
The money raised will help the National Literacy Trust provide brand new books and run literacy programmes to support the skills and learning of children who need it most.
Looking for a book recommendation to spark a love of reading? Check out the amazing new book list 12 authors have contributed to, to champion diversity in literature:
The brilliant Dapo Adeola is also one of 12 authors involved in our Christmas campaign who have shared the book titles they first saw themselves in, or really connected with which we have put together into a booklist.
12 much-loved children's writers and illustrators: Dapo Adeola, Nathan Bryon, Bali Rai, Konnie Huq, Steve Antony, Kevin and Katie Tsang, Tom Palmer, Sophie Dahl, Karl Nova, Cressida Cowell, Ross Welford and Dean Atta all shared recommendations which we published as a booklist available on our Words for Life website here.
This Christmas, we want to shine a light on the essential importance of a child, a person, feeling that they can identify with the characters they read about. As a charity, £7 allows us to increase access to books that will help children feel seen through our programmatic and local work. We know just one book can change someone's life story. There is a beautiful, positive link between literacy and life-long circumstances.I'd like to extend my thanks to the hundreds of children who submitted wonderful Christmas card designs, and congratulate the brilliant top 12 now available to purchase , and the 12 authors and illustrators who are backing our campaign. They have shared the book that first made them feel like they were represented on a page. We hope they spark inspiration this Christmas.

Jonathan Douglas CBE, Chief Executive of the National Literacy Trust