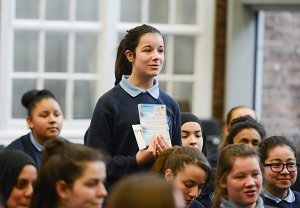 We're pleased to establish an new Swindon Hub in partnership with Swindon Borough Council, which will be known locally as Swindon Stories.

Generously funded by WHSmith, Swindon Stories will encourage the whole town to make reading, writing and talking a priority, encompassing a range of projects and initiatives to give young people the literacy skills they need to succeed in life.
 
Research shows that there are areas across Swindon where literacy issues are particularly prevalent. Our Experian analysis across every parliamentary constituency in England found there are seven wards across Swindon that are among the most in need of literacy support nationally.[1]
 
By the age of five, children from the poorest families in the town are on average 19 months behind children from the richest families in their vocabulary.[2] The Swindon Hub activity will therefore focus on ensuring the town's youngest residents are ready to start school.

There will also be a drive to equip young people in Swindon with the skills they need to access the world of work. Educational attainment data also shows that just 36% of disadvantaged students in Swindon achieved A* to C in English and maths at GSCE in 2016, compared with 64% of their more affluent peers.

Teachers will be supported with our membership, which gives them access to teaching resources and tools, and local businesses will also have an important role to play in supporting the campaign.

Swindon Stories will officially launch on Thursday 8 February with a literacy-themed bus tour of local schools, kindly supported by Thamesdown, Swindon's Bus Company.

Starting at Swindon Central Library where key partners will gather to celebrate the launch, the bus will visit six primary and secondary schools with local musician and hip hop artist AJ Mayhew and books on board.

At each stop pupils will climb onto the bus to enjoy a spoken word performance by AJ and his band, The Tribe. AJ will highlight the importance of literacy skills and inspire the pupils to read and write. Pupils will also be gifted a brand new book and a Swindon Stories bookmark to take home.

National Literacy Trust Director Jonathan Douglas said:
"We are delighted to be working in Swindon, a town with such rich literary and cultural heritage, to make literacy a priority. We are looking forward to building innovative partnerships with local businesses, libraries, schools and other organisations, and taking our evidence-based programmes into local schools. Together we can inspire change through words and ensure that every young person in Swindon has the literacy skills they need to succeed in life."

Swindon Hub Manager Anish Noble-Harrison said:
"This is an exciting time for Swindon and a real opportunity to help raise aspirations for our community.  Through our Swindon Stories campaign, our programmes and our partnerships, we can extend our reach and help promote a real love of words, reading and literacy.  If children can read they can succeed and that is what every parent wants for their child."

Find out more about Swindon Stories.


---
[1] National Literacy Trust and Experian analysis (2017) based on the social factors most closely associated with low literacy, including income, education and unemployment. Seven wards across North and South Swindon are in the top three deciles of literacy need.


[2] The Sutton Trust (2012) The Social Mobility Summit: Report of the Summit held at the Royal Society London 21-22 May 2012.