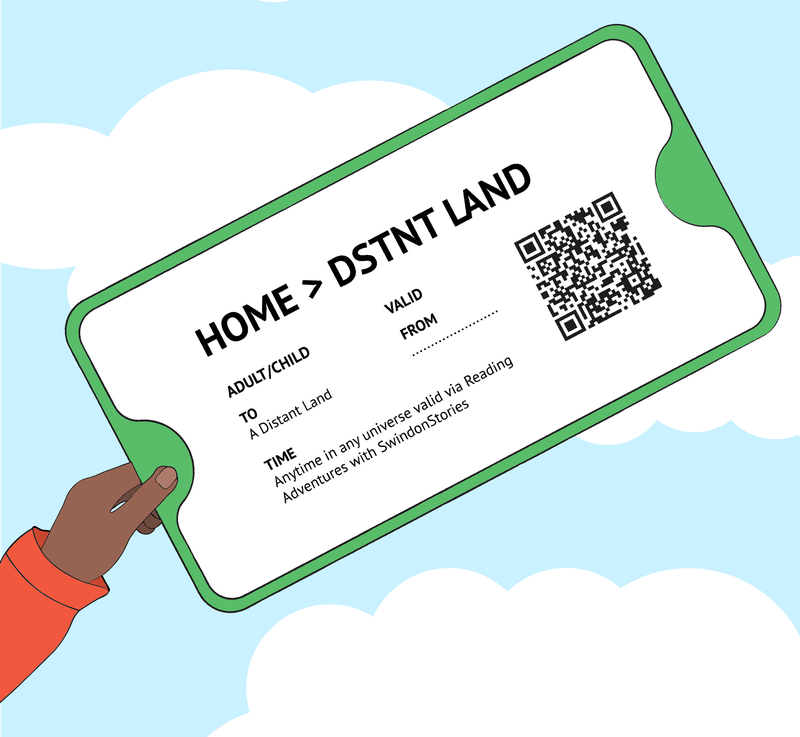 Today, Swindon Stories, the National Literacy Trust and Great Western Railway (GWR) have joined forces to launch the Reading Adventures competition for KS2 children aged 7-11 in the Swindon area.
Swindon Stories, a literacy campaign delivered by the National Literacy Trust, Swindon Borough Council and WH Smith, has formed this initiative as part of the charity's summer offer to support children as they transition from primary to secondary school.
There will be a range of activities, including:
The gifting of over 500 books to primary schools and families across the town alongside free booklet of activities inspired by Isambard Brunel, founder of the Great Western Railway, whose inventions connected Victorian England to the rest of the world via the railway and sea
A creative writing contest with a theme of voyage and discovery
Workshop with Prime Theatre, ticket to STEAM Museum and family day out to Weston-Super-Mare for the winning school
Family friendly events with circus skills workshop, including diabolo, plate spinning and flower sticks from Circus performer Darine, from Flanagan events, during the book giveaway near Debenhams, on 17th July, 11am – 2.30pm
Starting tomorrow, the Reading Adventures competition will run through the summer holidays and include three book giveaway events at popular locations around the town to promote reading for pleasure in Key Stage 2 children. With attendance from Swindon Libraries and Swindon Borough Council at the giveaways, families will be given the chance to learn more about their local library and the positive impact it has on their child's learning.
Alongside receiving books, school pupils will take home a bespoke booklet packed with literacy-based activities and a great outdoors booklist to inspire a summer of reading. The booklet also includes a postcard competition, inviting children to become the first person to ever step into a magic world of their own creation. They will be encouraged to explore the world around them through their imagination, write about any new friends they meet, the sights they see and any discoveries they make.
Closing on September 22, the school with the best postcards will win an exclusive workshop with Prime Theatre, a free visit to the town's very own STEAM Museum and family ticket to Weston-Super-Mare. This could be run as a whole class project or even a whole school celebration of the worlds we visit when we read.
As part of our ongoing project mission, we will be donating books to schools and children who need literacy support most, in communities across Swindon.
Meanwhile Young Poets Swindon are creating a bespoke guided walk created in partnership with a poet, to inspire the writing outcomes of 180 Year 7 students as part of the GWR initiative.
As part of GWR's franchise agreement with the Department for Transport, the train operator is committed to supporting schools, colleges, community and other not-for-profit organisations by aiding a number of initiatives.
GWR Community Manager Emma Morris said:
"We're delighted to partner with the National Literacy Trust for the GWR Reading Adventures Project. There are so many fun-filled activities to enjoy and we'd encourage children to climb on board and let their imaginations travel.
"There's nothing more exciting than a train journey to take you on a new adventure. Nearly all of us have peered out of a train window and allowed our minds to wander, making up stories of what might lie beyond the rolling hills, city tower blocks or sandy beaches.
"Now children can go on a GWR Reading Adventure from the comfort of their own home!"
Anish Harrison, Hub Manager of Swindon Stories, said:
"We are thrilled to be launching our GWR Reading Adventures. This competition taps into Swindon's historic past, whilst inviting children to use reading and writing to create their own worlds, full of adventure.
"I'd like to thank GWR for making this happen, it is a real privilege to facilitate a project which involves so much of Swindon's past, for our children now."
Mark Powell, Artistic Director of Prime Theatre, said:
"Prime and NLT love taking children on imaginative journeys both to other experiences and to what they themselves can become. It's great we can work together on this project to explore the great outdoors and the great indoors of their creative brains, too. Our active drama workshops will allow each pupil to succeed in ways they might not have known possible."
Schools and families can access the free booklet and more information about the project on the National Literacy Trust website here.