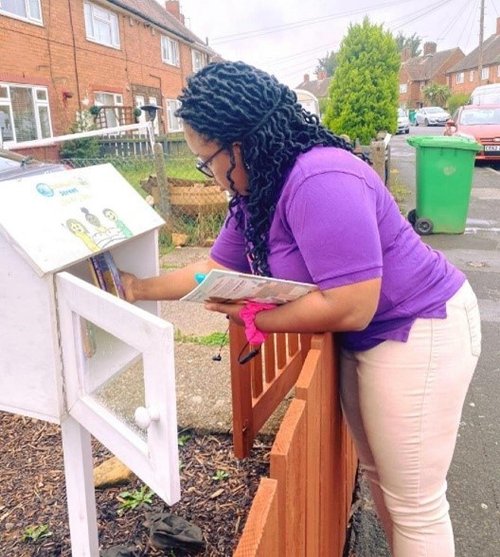 It's impossible to not feel inspired when talking to Literacy Champion Shanine. Her love for the Nottingham community, combined with her passion and joy for reading, is truly infectious.
Inspired from an early age
Shanine grew up in St Vincent and the Grenadines, with the earliest memories of her education featuring her animated English Literature Teacher reading stories to the class under a mango tree.
Following in her teacher's footsteps, Shanine is now a qualified teacher herself, and CEO of Diversify Education in Nottingham, working to help people learn through activities such as sewing classes, book clubs and empowerment workshops.
Being a Literacy Champion is in Shanine's nature, and since signing up she has worked with the local council, designing and creating three street library boxes – one in a resident's garden next to a "happy to chat" bench, one in a local community centre, and another in a sports club. Shanine visits her book boxes frequently to keep them topped up, clean, and ensure there's something available for everybody.
Literacy at the heart of the community
Her enthusiasm spreads throughout her community, and she's a friendly face for all. Her actions have inspired so many others to become Literacy Champions themselves, and they all work together to help everybody in Nottingham access books which will help them along on their literacy journey.
Become a Literacy Champion
If you would be interested in becoming a Literacy Champion, please visit our Volunteer page for more information, or email literacy.champions@literacytrust.org.uk
Sign up here