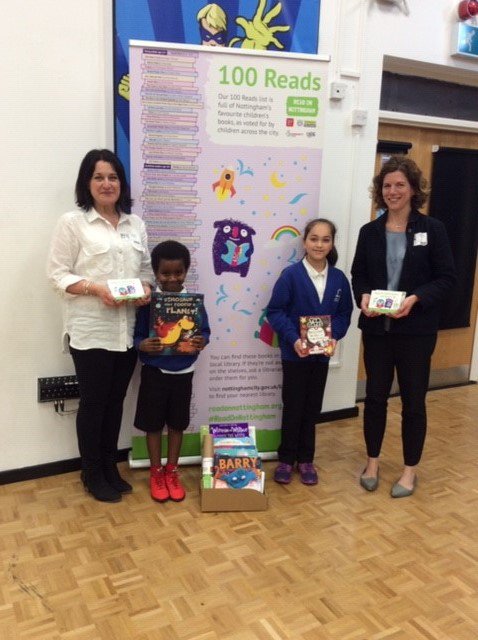 A list of Nottingham's top 100 children's books, as voted for by children and families across the town, has been revealed.
Nottingham 100 Reads is an initiative from our Read On Nottingham campaign. It was launched as part of the wider Big Reader? Big Future! campaign from Nottingham City Council with the aim to inspire more children to enjoy reading and discover books recommended by their peers.
Every primary school in Nottingham was encouraged to submit their favourite books and authors for the top 100 list and suggestions were also collected from local residents. The final recommendations were compiled into a fun height chart, illustrated with the monsters from the Big Reader? Big Future! Campaign. Charts have been gifted to primary schools and libraries to display in classrooms and children's literature sections across the city to inspire children to get reading.
Nottingham 100 Reads includes popular contemporary authors such as Jacqueline Wilson and Jeff Kinney and has also uncovered the city's passion for classics such as CS Lewis' The Lion, the Witch and the Wardrobe, Peter Pan by J M Barrie and even the tale of local Nottingham hero Robin Hood and the Silver Arrow by Mairi MacKinnon.

Read On Nottingham is our community-driven campaign in partnership with Nottingham City Council and Small Steps big Changes to raise literacy skills across the city. It is supported by funding from the National Lottery Community Fund.
The Nottingham school that entered the highest number of 100 Reads suggestions, Bluebell Hill Primary School, was presented with a bundle of books that appear on the list on Wednesday 5 June, including The Worst Witch by Jill Murphy, Skellig by David Almond and the Tom Gates series by Liz Pichon.
Emily Landsborough, Manager of Read On Nottingham, said:
"We were delighted that so many schools and Nottingham residents submitted their favourite children's book for our Nottingham 100 Reads list. We're very proud of the final height charts, where the books have been ordered by recommended reading age and in line with the average height for each age. This means that when a child measures themselves they will not only discover their height but also a new book to enjoy, as recommended by a fellow Nottingham local!"
The recommended reading ages act only as a guide. Children are encouraged to try any book they feel comfortable reading and to ask their teacher or librarian for advice on choosing the right book for them.

The height chart is available to download from the Read on Nottingham page. Most of the books can be borrowed for free at local libraries across the city.
Find out more about Read On Nottingham