Connecting Stories is going from strength to strength, and is transforming people's access to literature and building literacy skills for life in some of England's most disadvantaged areas, according to new research that we've published today.
Connecting Stories is a three-year literacy project which is being funded by Arts Council England with an award of £1.6m from its National Lottery Project Grants programme. It's being delivered in 14 areas of the country where communities face high levels of poverty and low levels of literacy.

The evaluation of phase 2 of the project – published today – reveals that children from schools where the National Literacy Trust has worked most intensively, showed more positive attitudes and behaviours towards reading and writing when compared to the national average and well above other local children. The report shows that:
40% more use their public library.
22% more enjoy reading at school.
37% more write daily in their spare time.
"Connecting Stories is a wonderful programme, which is working in 14 of the country's most disadvantaged areas, making deep connections with communities where reading for pleasure is traditionally low. We've put those communities at the centre of our activities, empowering local people to take active roles in shaping and delivering our work, and have built a network of partners and programmes around them, based on local needs. "This place-based approach is making a huge difference. It's helping to change the attitudes and behaviours of people in those communities towards reading, writing and literature, and – by bringing like-minded partners together to achieve a common goal – it encourages and inspires other activities too."

Jonathan Douglas CBE, Chief Executive of the National Literacy Trust
"We know that improving literacy and reading abilities has an enormously positive impact on children and young people: boosting their confidence, helping them to relax and enjoy themselves, and supporting them to develop lifelong skills. The Connecting Stories Hubs do a huge amount to promote literacy in communities, from providing free books and running storytelling sessions to encouraging parents to visit their local libraries with their children – and all by placing the communities at the heart of their activity. I'm so pleased that we have been able to support this project and the evidence in the report shows just what a difference the work is making to thousands of people across the country."

Sarah Crown, Director of Literature at Arts Council England
Launched in December 2020 in partnership with local communities, Connecting Stories has so far reached almost 700,000 people with a programme of exciting and inspirational events, including: virtual author visits, storytelling sessions, workshops, reading and writing for pleasure activities, creative writing competitions, book donations, and other fun activities for families to enjoy. It has partnered with 43 book publishers and 158 authors, illustrators, storytellers and creatives, and gifted over 160,000 books donated by publishers.
It has also mobilised over 600 people who live and work in these priority communities to become Literacy Champions – volunteers who have so far contributed more than 125,000 hours to support literacy in their neighbourhoods. The scale and success of Connecting Stories would not have been possible without them.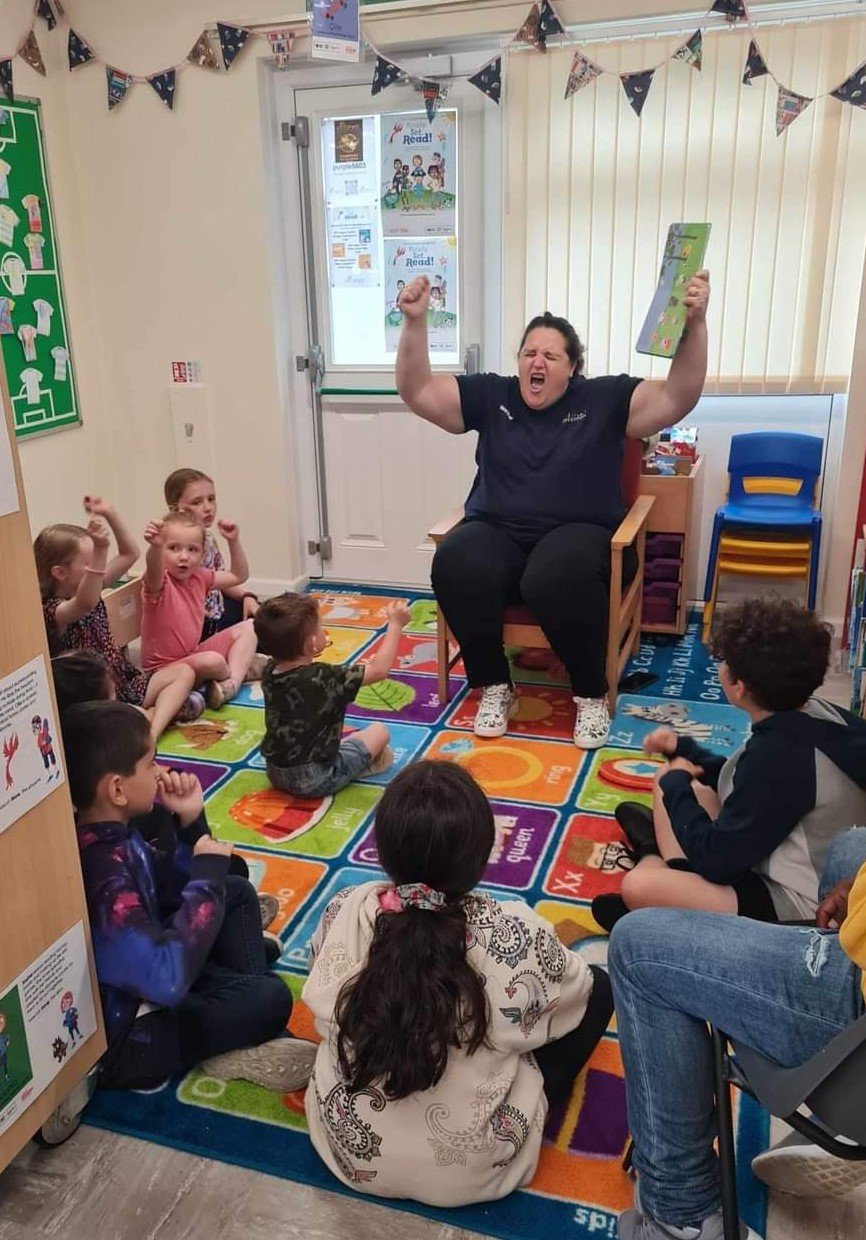 One of our amazing Literacy Champions is Heather Coultard from Doncaster. She was one of the first Champions back in 2020 and has worked with us on a blog for the Arts Council's website, where she talks about Connecting Stories, her work, and why literacy is so important.
Read the full or summary report here