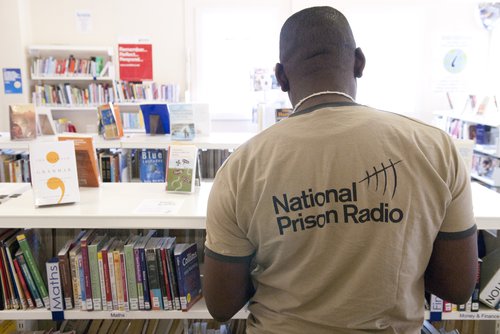 Prisoners and young offenders are reading more frequently and have an increased sense of wellbeing after taking part in our Books Unlocked programme, a new evaluation shows.
Books Unlocked has supported prisoners and young offenders to engage with literature since 2012. Funded by the Booker Prize Foundation, the programme works with reading groups including those in secure settings, offering participants the chance to read, discuss and own Man Booker-shortlisted titles.
Feedback collected from seven secure settings confirms that Books Unlocked has a positive impact on the reading habits of prisoners and young offenders. Our evaluation highlights how participants read more frequently and widely after taking part in the programme. Feedback from participants also shows that the project benefits both proficient and emergent readers:
I read a lot more, also I read a lot more varied topics

HMP Thameside
I have been introduced to books that I would probably not have chosen, which would have been my loss

HMP Birmingham
I thought it was fantastic, always a good varied selection of books, from different authors and genres. Keeps the mind active and engrossed

HMP Thameside
The evaluation shows that Books Unlocked has achieved positive outcomes beyond literacy, demonstrating the wider impact reading for enjoyment can have on wellbeing and social skills.
Several participants described how taking part in Books Unlocked has helped to relieve stress and increased their confidence, tolerance and empathy. Respondents also cited the opportunity to chat with other participants as one of the most important aspects of the programme:
It is always good to hear the opinion of others. Individuals may well find alternative points of focus. It is also good to share the enthusiasm for a book and to feed off the enthusiasm of others. I think I have become more patient and more accepting of the opinions of others

HMP Lewes
I feel a lot happier, calmer, enthusiastic, hopeful and positive!

HMP Thameside
Helps me to control my stress, anger or excessive excitement. It also helps me from a more general point of view, to educate myself and my behaviour

HMP Thameside
The responses featured in our report highlight the far-reaching impact initiatives like Books Unlocked can have in secure settings. They provide a small glimpse of the power of books to help people feel, think, learn and change. The responses speak for themselves and for the programme as a whole. As one participant put it, 'Books Unlocked…unlocks the mind'

Clare Argar, Senior Programme Manager of Books Unlocked
To expand the reach of Books Unlocked, we work with National Prison Radio (NPR) to serialise Man Booker Prize-shortlisted titles on a daily radio show. In 2014/15 more than 400 requests were made by individuals from 78 prisons for copies of books that featured on the show. A survey conducted by NPR found that 39% of listeners who heard the Books Unlocked show said it had encouraged them to read or write more.
A separate evaluation by Staffordshire Prison Library Service shows how Books Unlocked has helped to break down barriers between prisons and the wider community in Staffordshire as well as raising participants' self-esteem.   
As one young offender said: "We've read a Man Booker-shortlisted author and read to a level none of us thought we were capable of... It's made us feel good, and in prison you don't get to feel that way very often."
Read the full Books Unlocked evaluation