HRH The Duchess of Cornwall, Patron of the National Literacy Trust, attended a special reception to celebrate the seventh anniversary of our flagship criminal justice programme, Books Unlocked, which is supported by The Booker Prize Foundation.
The reception was hosted at KPMG's offices in central London, which has been transformed into a Books Unlocked pop-up café open until December. KPMG will donate some of the profits of every 'literacy latte' sold during this time to support the programme.
At the reception, The Duchess of Cornwall met key supporters of the Books Unlocked programme, including Booker Prize shortlisted authors Stephen Kelman and Rachel Seiffert who have visited prison reading groups in support of the programme, and prison librarians from around the country.
Her Royal Highness has previously visited HMP Brixton and HMP Styal to show her support of Books Unlocked.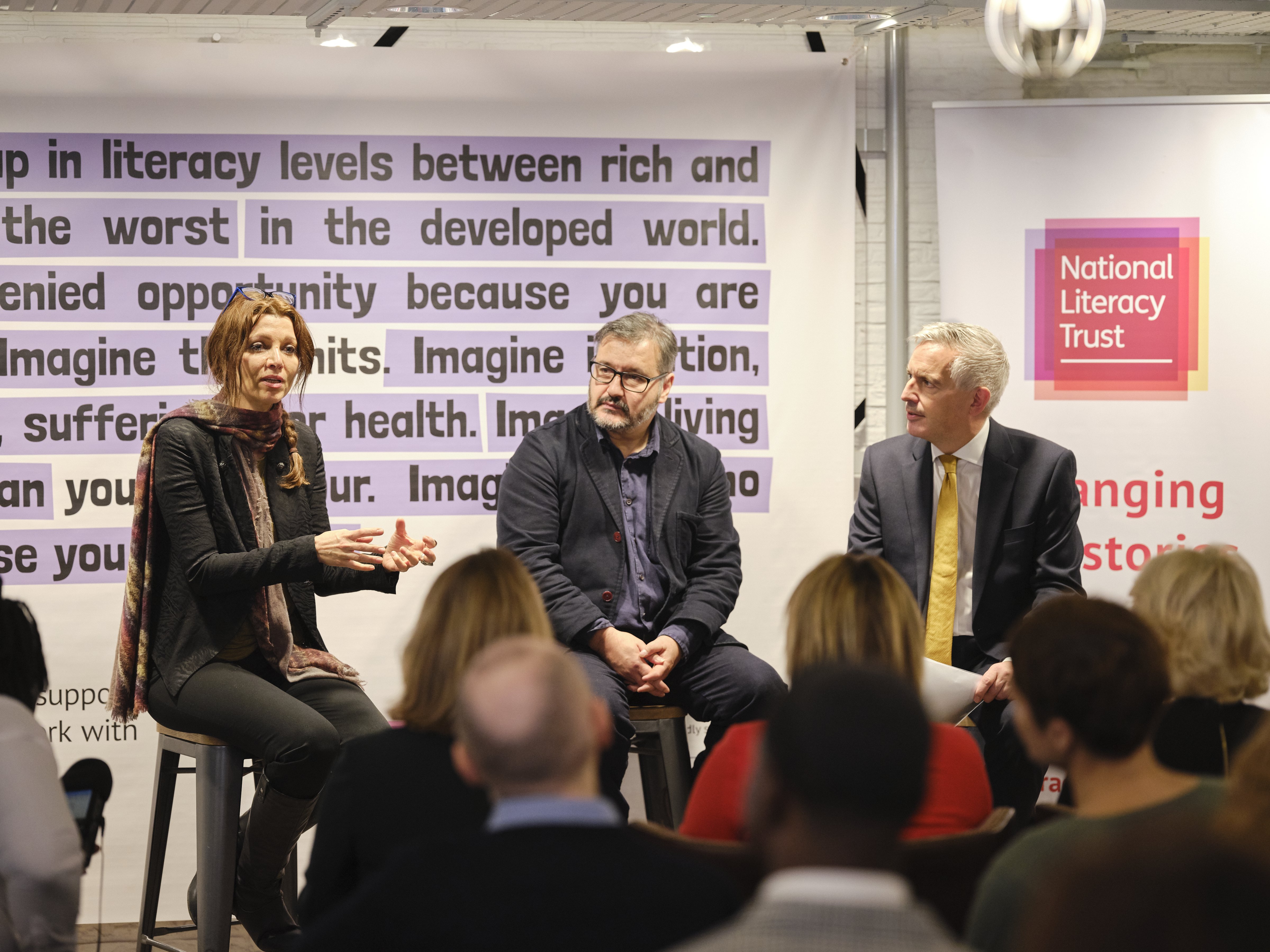 Guests then gained an unrivalled insight into The Booker Prize through a conversation between author Elif Shafak (whose title 10 Minutes 38 Seconds in this Strange World was shortlisted for the 2019 Booker Prize) and Peter Florence, chair of judges for the 2019 prize, chaired by our Chief Executive Jonathan Douglas.
In the Q&A which followed, Her Royal Highness asked Shafak, who is a multi-lingual writer, how she chooses which language to write in. Shafak spoke about how she cherishes being able to express stories in different languages and often finds she can portray sadness better in Turkish and irony better in English.
On behalf of their prison reading groups, prison librarians asked Shafak and Florence about the importance of getting reluctant readers into reading and representation, and Stephen Kelman and Rachel Seiffert also contributed their experiences of visiting prison reading groups through Books Unlocked.
"We were able to get an unrivalled insight into The Booker Prize and bring questions from people in prisons directly to the authors whose books they have read, discussed and now own."

Jonathan Douglas, Chief Executive of the National Literacy Trust
The event was recorded by National Prison Radio and will be broadcast directly into almost 80,000 cells in prisons and young offender institutions across England and Wales in the coming weeks.
Books Unlocked works with National Prison Radio to serialise audiobooks of Booker Prize titles, as well as broadcasting author interviews.