The Bookshelves in Marcus Rashford's childhood community centre is part of our continued work in the area to raise literacy levels and encourage a love of reading in the community. Her Majesty, who became Patron of the National Literacy Trust as Her Royal Highness The Duchess of Cornwall in 2010, spoke today about her own love of reading and her Reading Room Book Club.
Alex Falase-Koya, co-author with Marcus Rashford of The Breakfast Club Adventures books, led the school children in a creative writing and storytelling session. The children shared these stories with Her Majesty, and were joined by Jonathan Douglas, CEO of the National Literacy Trust, Joanna Prior, CEO of Pan Macmillan and Chair of Trustees for the National Literacy Trust, and Rachel Hopcroft, Head of Corporate Affairs at KPMG, a funder of the Marcus Rashford Book Club.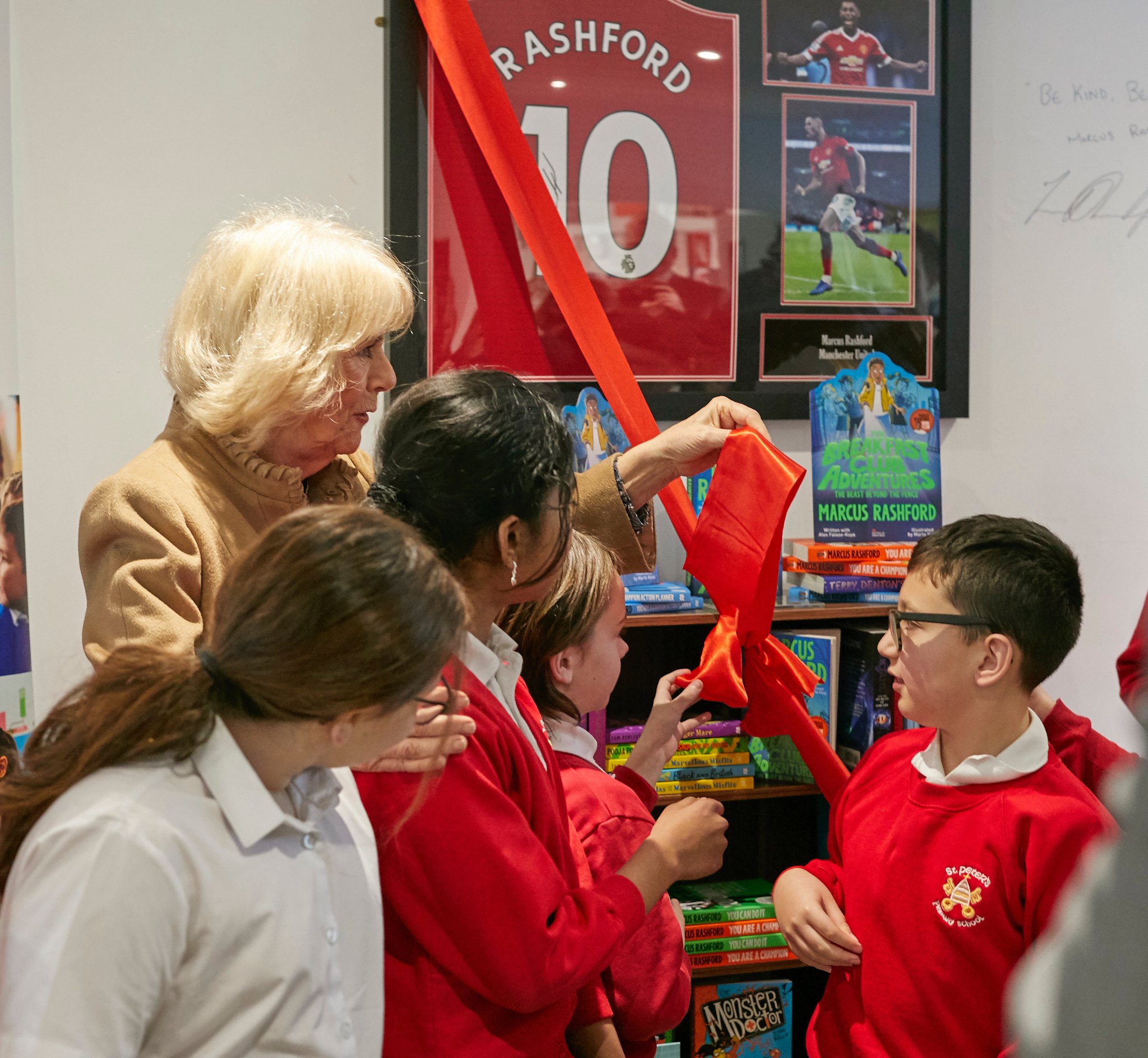 The Marcus Rashford Book Club, in partnership with the National Literacy Trust and Macmillan Children's Books, aims to get exciting and inclusive books, handpicked by footballer and anti-poverty campaigner Marcus Rashford and the Macmillan Children's Books team, to children in disadvantaged areas across the UK. Recent research shows that half a million children say they don't have a book of their own at home, and the Book Club is there to help these children discover the joys of reading and the lifelong benefits it can have. Since the launch in Summer 2021, the MRBC has given away over 325,000 books to children who need them, including Marcus Rashford and Alex Falase-Koya's The Breakfast Club Adventures, illustrated by Marta Kissi.
The National Literacy Trust works in Manchester, in partnership with Manchester City Council under the campaign name "Read Manchester". Read Manchester's work aims to encourage and inspire local families to make reading a priority in their everyday lives. In the last year, Read Manchester has donated over 114,000 books to children through schools and community partners, including food banks, homeless charities, and centres supporting newly arrived refugees. 20,000 of those books were titles written by Marcus Rashford, gifted alongside resources that help teachers and community leaders use the books to support children and young people with their resilience.
National Literacy Trust CEO Jonathan Douglas said: "Over half a million children in the UK say they don't own a book at home, which we know affects their literacy development and chances in life. That's why we are in seventeen priority areas, including Manchester, working across the community – in schools, supporting parents in homes, and shared spaces – to improve access to books, raise literacy levels, and break the intergenerational cycle of poverty."
Joanna Prior, CEO, Pan Macmillan says: "Macmillan Children's Books and Marcus Rashford launched the Marcus Rashford Book Club in 2021 to promote literacy and support children on their reading journey, and we are proud to say that over 325,000 children and young people in the UK have, to date, received a free Marcus Rashford Book Club book. Working with the National Literacy Trust, our book club authors and illustrators and committed funding partners such as KPMG, we know we can continue to have a strong impact and bring positive change to children's lives."
Head of Corporate Affairs at KPMG, Rachel Hopcroft said: "Alongside numeracy and lifelong learning, literacy is one of the major building blocks of social mobility, and yet 1 in 15 children don't have a single book at home. As a firm, KPMG UK is committed to improving social mobility, working with our local communities and partners to raise skills and aspirations. We're thrilled to be working alongside Marcus Rashford, Macmillan Children's Books, and the National LIteracy Trust, helping more children experience the joy of reading while also building a fairer and more equal society for all."