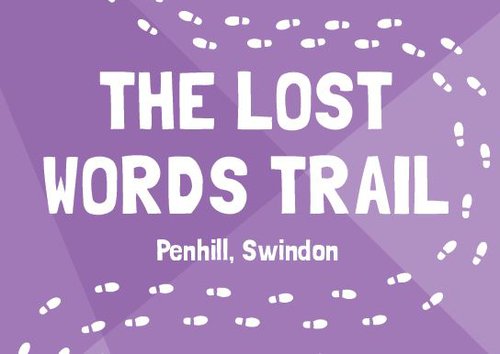 Our Swindon Stories campaign is encouraging pupils in Penhill to practise their communication and literacy skills while enjoying being outdoors with the launch of a new Lost Words Trail, designed especially for the area.

Building on the success of the town-wide trail last year, this year's Lost Words trail is taking a more targeted approach, focusing specifically on the Penhill area of the town. The initiative asks school pupils in the area to help Raven, the guardian of the lost words, capture the missing words concealed at eight Penhill locations. Each spot hosts a nature-themed word displayed on an outside window or floor, which they should note down in their Lost Words trail maps.

The Lost Words Trail is inspired by The Lost Words: A Spell Book, written by Robert Macfarlane and illustrated by Jackie Morris, and features beautiful words and artwork from the book. It aims to reconnect children with nature and the great outdoors by exploring words that are falling out of common usage.

The lost words can also be found at:
Penhill Park/The Rec.
Penhill Haven
The Everleigh Centre
Swindon Academy
Penhill Housing Office
The Orchard
Seven Fields Primary School
Seven Fields nature reserve

Swindon Stories is a campaign led by us in partnership with Swindon Borough Council and supported by WHSmith. It encourages the whole town to make reading, writing and talking a priority, with a range of projects and National Literacy Trust programmes to promote reading for pleasure, employability skills and early language use.

As pupils complete the trail, they will also find letters which they can unscramble to reveal a hidden word, enabling them to enter a draw and win prizes for their school. The Penhill school that submits the highest number of entries will win £150 in vouchers and a set of books for their school library, second place will receive £100 in vouchers and a set of books, and the school in third place will receive £50 in vouchers and books.

The trail launches today (Monday 8 July) and will be open to families throughout the summer holidays. Free copies of the Lost Words Trail map are available at each of the participating venues listed above and can also be downloaded from the Swindon Stories website. Completed maps should be handed in at Penhill Library or John Moulton Hall for a chance to win the competition.

Swindon Stories Manager, Anish Harrison, said:
"We enjoyed a brilliant town-wide Lost Words trail last year, so we're delighted to be bringing a new, more personal version to Penhill for families to take part in.
"The trail is a great way to introduce new words to the conversations you have with your child and to improve their language skills. If the weather stays warm, I can't think of a better activity to get outside and help to avoid the summer learning slump this summer!"

Download the Swindon Penhill Lost Words trail map