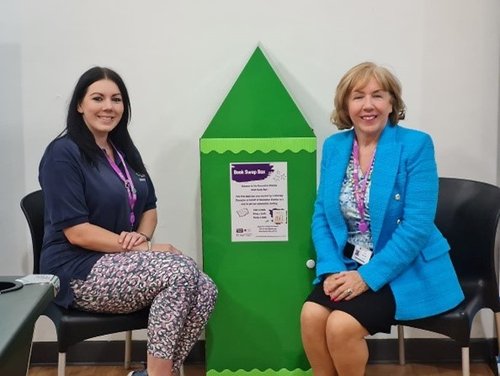 After finding a hidden book whilst out on a walk in Doncaster with her four-year-old daughter Sophie, Jade felt inspired to share her love of reading with her local community.
A group effort
Jade swiftly signed up to become a Literacy Champion and following a consultation with Sophie, she worked with her colleagues at Doncaster College to create a bespoke Book Swap Box. The look and feel of the box was inspired by Green Crayon, Sophie's favourite character from The Day the Crayons Quit, by Drew Daywalt and illustrator Oliver Jeffers.
An engineering lecturer at Doncaster College, Jade collaborated with both the joinery and arts departments to bring Sophie's vision to life. To help fill up the book box, Jade has also organised a book drive with staff and students at the college, and as a result has a wonderful collection of pre-loved books just waiting to be shared with her local community. From start to finish, Jade's creativity has shone through as she has managed this amazing project, sourcing materials and drawing up the designs, as well as designing posters and promoting it through her network of friends, family and colleagues.
Books for all
The Book Swap Box is located at Doncaster College, and people throughout the community are welcome to take a book, or add their own pre-loved books to the collection.
Become a Literacy Champion
If you would be interested in becoming a Literacy Champion, please visit our Volunteer page for more information, or email literacy.champions@literacytrust.org.uk
Sign up to become a Literacy Champion