Whitby, Our Whitby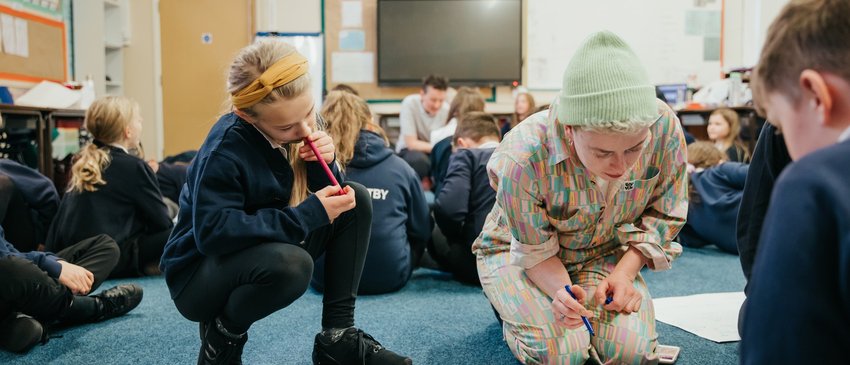 Whitby, Our Whitby (WOW) is the National Literacy Trust and Our Stories social change and employability programme. The programme gives young people from disadvantaged communities the literacy and communication skills they need to make a difference in their local area and reach their potential.
The programme brings young people, local business, libraries and local leaders to bring literacy into cultural venues and the workplace.
Sign up to our open sessions
Join our exciting five-week course at Eastside Community Centre from Wednesday 26 July. Suitable for ages 11-16 in Whitby, these sessions aim to develop young people's literacy and communication skills needed to make a difference in the summer holidays and beyond.
Dates and times
July 26, 5-6pm
August 2, 5-6pm
August 9, 5-6pm
August 16, 5-6pm
August 23, 5-6pm
Location: Eastside Community Centre, Whitby YO22 4EA
Contact us if you're a parent or carer and would like to sign up your child. Email yasmin.stefanov-king@literacytrust.org.uk to secure your spot.
About the programme
Research shows that 43% of Key Stage 2 children in Scarborough and Whitby achieved the expected levels in literacy, compared to 59% nationally.
Whitby, Our Whitby gives students the opportunity to identify an issue they care about, develop their critical thinking and writing skills, and create a social action project to be able to credibly influence change.
With support from National Literacy Trust workshop leads, the participating young people will conduct research, prepare a presentation and pitch to a variety of different audiences.
Who is it for?
The programme is aimed at young people aged 11-16 in Whitby.
Youth groups and schools will receive
A chance to share their ideas with Whitby Council and the media

A memorable and engaging experience for students

Creative session plans

These will focus on understanding, identifying and navigating news, research and interviewing skills, public speaking and photo voice

Resources and templates to develop their own social action project

The opportunity to pitch a social change presentation to an expert panel
Outcomes of the programme
Students will be empowered to identify and change an issue that they feel strongly about.
They will build confidence to share and present ideas to different audiences
Students will build confidence to engage with a range of different audiences in order to build social capital and expand their world view
They will develop key skills that will increase their confidence to engage in workplace-based opportunities in the future
Students will develop of critical thinking skills to be able to credibly influence change
Timeline
School and group registration: Now until June 26
WOW creative sessions: June – July 2023
Celebratory event: September 2023
How to sign up
If you are a teacher, work in a youth group or place where young people attend regularly in Whitby, then get in touch with Yasmin Stefanov-King to sign up now. Contact yasmin.stefanov-king@literacytrust.org.uk or 07547106132.