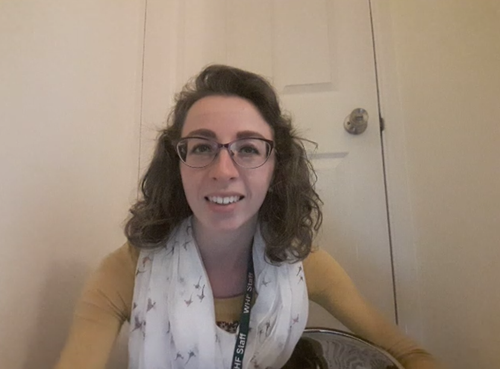 Practitioners across Swindon reacted incredibly quickly to lockdown, and have been working really hard to continue reaching out to families during the shutdown of many settings. One such practitioner is Jenna Godfrey, a nursery teacher for the White Horse Federation.
Jenna took part in our Early Words Together programme earlier this year. The Early Words Together programme works to build parents' confidence so they can support their child's communication, language and literacy skills at home.
Before lockdown, Jenna only had one week to pull together resources for parents to use at home. She created lists of simple, accessible activities using the internet and ideas from school. The activities supported Early Years learning as much as possible, while only needing equipment she thought families would already have at home. Themes quickly emerged of fine and gross motor skills, early reading and writing, understanding of the outside world and time spent there, den building and other indoor fun, and creative and imaginative play.
"We didn't want to put pressure on parents but we did want to give them the opportunity to continue educating their children at home."
She mapped out activities to cover the first two to three weeks of lockdown, and she was then contacted by the federation's school improvement team, to join a wider team of Early Years practitioners, making videos and resources to support home learning across the whole federation (more than 30 schools). These videos needed to support a timetable of learning that was now available to parents covering phonics, literacy, creativity and basic counting skills.
Jenna and the team created videos explicitly modelling the lessons, meaning children could follow them more independently. They have had great feedback from parents, who are grateful for the ideas that are suggested and the clear explanations that have been given alongside. Jenna's school has started to use the learning platform Purple Mash to keep in touch with parents and children since lockdown, writing a daily blog signposting parents to useful resources. There is no obligation for parents to respond, but this platform offers the opportunity for public and private responses, and Jenna hears from parents every day, with some sending photos of their children completing the activities.
Jenna has remained in close contact with the Early Words Together team since shutdown, and has found the web links and tips in the EWT team's regular emails a really useful resource to share with families, in particular the activities to enhance nursery rhymes, different ideas for bringing stories to life and mark-making activities. Other resources Jenna particularly promotes are Twinkl's, as they are fun and well-pitched. The biggest influence from EWT sessions that Jenna always stresses with parents is talking to children about everything they can:
"Talking with your child about everything they're experiencing is the best support you can give them."