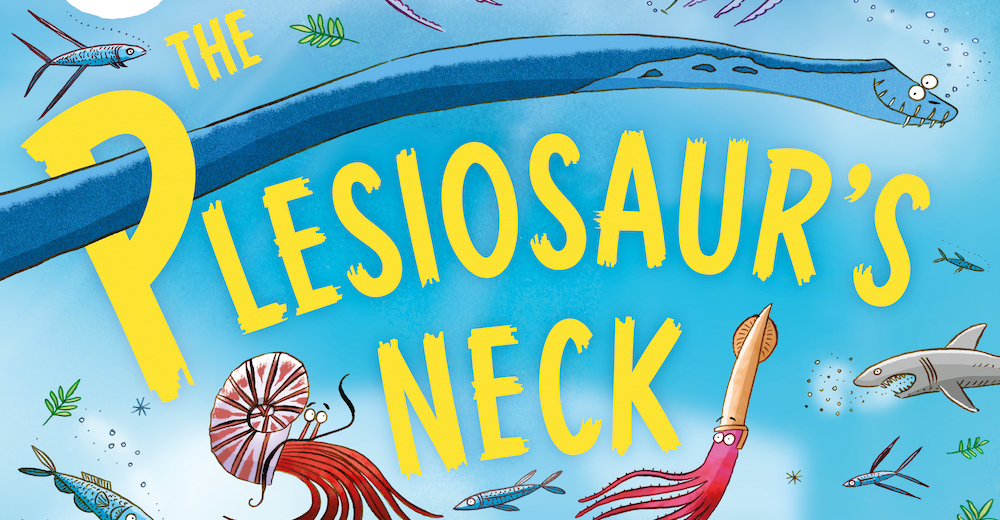 Written by Dr Adam S. Smith and Jonathan Emmett. Illustrated by Adam Larkum

The story
Watch the video below to watch authors Dr Adam S. Smith and Jonathan Emmett read The Plesiosaur's Neck, their new picture book illustrated by Adam Larkum and published by UCLan Publishing.
You can also watch our live event with Adam and Jonathan here on YouTube (30 mins), available for a limited time only.
Enter our competition
Poppy the Plesiosaur had a preposterously long neck – but what was it for?
1. Chat together to discuss your ideas of what Poppy the plesiosaur might use her long neck for.
Both sensible and silly ideas are welcome, so let your imagination run wild! You can show us how you think Poppy would have really used her neck in the prehistoric ocean or imagine how she might use it today at the seaside, in the lake or pond at your local park or in a swimming pool!
2. Draw a picture of Poppy showing how you think she used her long neck.
Include three or more words around the picture to point out her features. Older children could write a description of what she is doing. Younger children could get someone to help.
3. Send a photo of your child's picture by text/WhatsApp to 07892 765561 or email nottingham@literacytrust.org.uk to enter our competition for the chance to win a copy of The Plesiosaur's Neck, a dinosaur stationery pack and a Read On Nottingham book bundle for your nursery or school! Three age categories: 2-4, 5-6 and 7-8.

Don't forget to include your name and contact details plus the child's name, age and school/nursery if they attend one. Open to children in Nottingham City. Closing date Friday 18 June. T&Cs apply.
Jonathan and Dr Adam will choose some of their favourites as the winners! Keep an eye on our Facebook page fb.me/ReadOnNottm in early July to see them talking about your entries. Competition winners will also be contacted separately.
More activities
Download more special plesiosaur activities on the links below!

You can buy The Plesiosaur's Neck book at your local bookshop or buy online from Hive.
Share pictures of your kids enjoying the event and activities with us on Facebook by tagging @ReadOnNottm
Find Read On Nottingham on Facebook