About New Chapters
New Chapters aims to inspire people in the criminal justice system through the power of creative writing. We support participants to raise aspirations, find their voice and tell their stories through creative writing workshops delivered to participants by authors with lived experience of the issues they face. New Chapters finds ways to showcase participants' work to wider audiences and break down barriers between community and custody through collaborations with partners like National Prison Radio and Buckinghamshire Culture, annual anthologies, public exhibitions and writing exchanges.
"The session has made me realise I want to write my own book about my life and how I have changed as a person"

New Chapters participant
In 2022, we delivered New Chapters in nine settings, ranging from prisons to Young Offender Institutions, Secure Training Centres to Youth Offending Services, and even pupil referral units. We reached 213 people directly through workshops, as well as potentially thousands more through regular writing groups and our 'New Chapters Takeovers' on National Prison Radio.
Of the 178 participants that we managed to gather feedback from
93% rated the session they attended as either 'excellent' (60%) or 'good' (33%)
80% said the session encouraged them to write more and even higher numbers (82%) said it made them feel more confident about expressing themselves in writing.
Over 85% said the session made them feel better in general.
78% said it made them feel their story was worth sharing.
"I think these sessions have gone from strength to strength. The last six months have been great for us here in the library and the prisoners involved in this project. The prisoners who have joined us for these sessions have all been engaged and have listened. They have been respectful of the authors and what they have to say as what as well as what each other have had to say. The work that has been produced has been amazing. All the prisoners I have spoken to who have been to these have loved it and have asked " when is the next one and can I sign up now?!"

Susan Smith, Prison Librarian, HMPYOI Swinfen Hall
Read the 2022 New Chapters Impact Report in full
New Chapters Anthology
At the end of 2022, we created an anthology to showcase the writing – from poems to short stories, rap lyrics to non-fiction and more – produced by people who took part in the project across the year. Lady Unchained, a poet and performer with lived experience of incarceration, led two workshops last year. In her introduction to the anthology, she wrote of 'the incredible talent that lives just the other side of that wall. The voices that are usually silenced and left in isolation with no outlet through which to express either their pain or joy, their hopes or dreams. The voices we believe could never be us or our children.'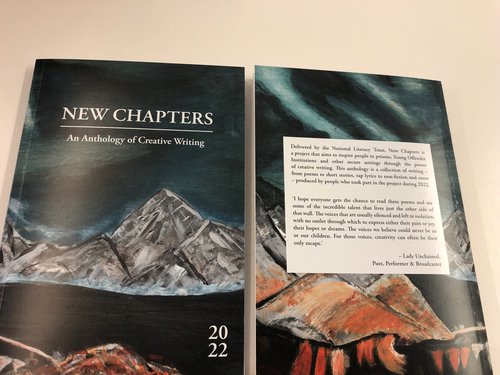 Read the anthology for yourself
Visit the exhibition
We are currently touring a mini exhibition around eight public libraries in Buckinghamshire to showcase the anthology to a wider audience. The exhibition features hard copies of the anthology as well as audio recordings of participants reading their work and information about the project.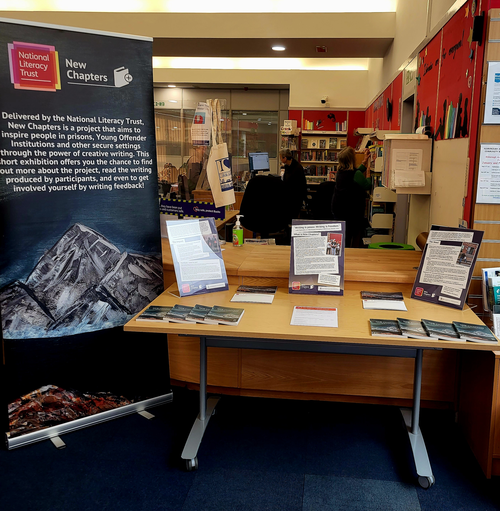 If you live in Bucks or the surrounding area, you can visit this exhibition at Aylsebury, Burnham, High Wycombe and Princes Risborough libraries between 1 – 22 February. The exhibition will then move to Buckingham, Amersham, Hazlemere and Marlow libraries from 1 – 29 March.
As part of this exhibition and other public showcases we plan to hold across the country later this year, we are hoping to gather feedback from those who read the anthology to send directly to the writers featured in it.
If you read the anthology and would like to give feedback on any writing that stand out to you, please fill out this feedback postcard and send it to the team via email. Please quote the code (e.g. 'NCAYL5') which appears in the top right hand corner of the page to identify the piece(s) you are giving feedback on.