Our Love our Libraries Programme Manager Victoria shares her thoughts on the (almost) impossible task of narrowing down a choice of books for your school library.
With over 10,000 children's books published every year, it's a hard task to decide which ones to have in your primary school library. Especially with limited budgets, and perhaps, limited knowledge of what children are reading. And it's an important decision because you want to ensure whichever books you do choose will be the ones that encourage reading for pleasure!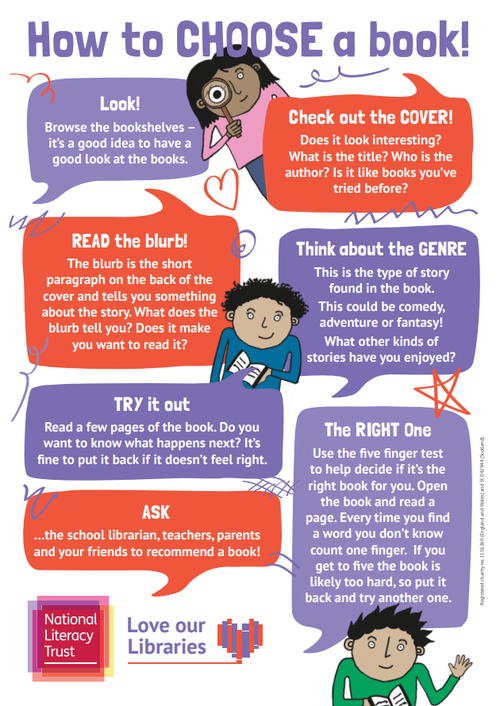 Will it be the Wimpy Kid or Walliams that will entice them over the library threshold? Or perhaps the Potter contingent will have them chomping at the bit to borrow a book! Could The Cat in the Hat or The Gruffalo be more up their street? Or maybe a non-fiction book will do the trick?
There are so many variables to consider. Age, ability, interests, genres, accessibility and diversity are all important to bear in mind when choosing books, so arming yourself with knowledge of children's literature is absolutely essential to help you make an informed choice. For some children the school library can be the only place where they can access books at all, so making sure there is a varied selection is important.
Our book lists can be a great way to discover books. Using resources like Lovereading4kids will give you a good idea of what's new, and joining Twitter communities like #ReadingRocks is a great place to look for inspiration. Book awards lists can be a perfect place to find children's literature such as the Branford Boase Book Award or the CILIP Carnegie and Kate Greenaway Medal. If you're stuck for funding, the Foyle Schools Library Scheme offer grants for school libraries.
I've been blogging about children's literature for about three years and have had the privilege of reading hundreds of brilliant books - from picture books, to middle grade fiction, to poetry, to incredible non-fiction and much more. And that doesn't include the books I read whilst working in school libraries – so much choice, the list of books could be endless! Of course, the act of choosing books to read is often very subjective – my reading tastes will not be the same as yours, nor the same as the many children I have worked with, so making sure you are as objective as possible when choosing books for your school is also really important.
Some great new reads for your library bookshelves
Just thinking about the books I've read in the last few months, I would happily recommend these middle-grade titles for every primary school library bookshelf.
The Land of Roar by Jenny McLachlan is a fantastic story celebrating the magical imaginary worlds we create when we're young – and how we don't have to grow out of them!
Little Badman and the Invasion of the Killer Aunties is downright hilarious with a totally engaging hero at the heart of the story.
The Runaways by Ulf Stark is an absolutely gorgeous story about a young boy helping his grandpa relive memories one last time.
I, Cosmo by Carlie Sorosiak is a moving story told through the eyes of the family dog as he witness a break-up and provides the best sort of comfort to young Max.
Spylark by Danny Rurlander is a fantastic action adventure with a brave young lad foiling a terrorist plot in the Lake District.
Tin Boy by Steve Cole is a gripping accessible read which challenges all to think about our world and the true cost of modern day living
Beyond Platform 13 by Sibeal Pounder heralds a wonderful return to the magical world originally created by Eva Ibbotson.
Alex Sparrow and the Zumbie Apocalypse by Jennifer Killick is the third book in this fabulous series with a super hero like no other.
I could go on and on but there just isn't enough room! So, what book would you recommend for every school library bookshelf?
---
Now you're thinking about your school library, download our free Libraries Week resources for more guidance on encouraging reading for pleasure in your school.