Our Head of School Programmes Fiona Evans reflects on all the brilliant and dedicated teachers we have worked with during this school year.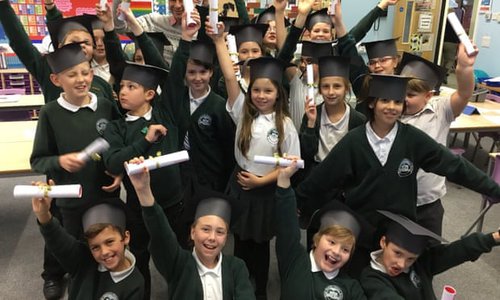 This year we have worked with more than 4,000 fantastic teachers across the UK through our programmes, training, membership and events. As the school year draws to a close, we'd like to say a huge thank you to each and every one of you for your efforts and commitment to providing fun and engaging opportunities for more than 100,000 children and young people to develop and expand their literacy skills.
The effect teachers have on their students can last a life time and inspire children to explore opportunities, careers and interests that they may not have even thought of.
To name just a few, here are some truly dedicated teachers, to give you a flavour of the talented and brilliant teachers, school librarians and school teams we've worked with, who have gone above and beyond to inspire their pupils this year:
Leia Sands, School Librarian at Steyning C of E Primary School in South East England, took our online Love Our Libraries training to help build a whole community of readers at her school. Leia created fantastic activities to encourage more children to read, such as appointing pupil librarians and having them help to organise fun events. For Harry Potter Night, Leia and the pupil librarians transformed the school into Hogwarts (including setting up a Three Broomsticks pub!) to raise money to buy new books.
Leia also launched an inspired initiative called 'Reading Rocks' to raise the profile of illustrators and to encourage more pupils to come into the library and explore new books. She hid 20 illustrated pebbles (or 'rocks') around the school for children to find. But these weren't just any pebbles – Leia had managed to get the pebbles decorated by a host of wonderful children's illustrators, including Chris Riddell, Liz Pichon and Nick Sharratt. When the children discovered a pebble that was hidden somewhere in the school, they went the library to get their Reading Rocks bookmark stamped and to get a recommendation for a book to read by the illustrator. And Leia's ideas didn't stop there!
After taking part in our NewsWise programme, teacher Cathy Spense, from Great Malvern Primary School in Worcestershire, became a NewsWise Teacher Champion. Cathy pulled out all the stops to empower her Year 6 pupils to understand, analyse and participate in the news. For example, to capture her pupils' imaginations and get them excited about news, Cathy transformed their classroom into a newsroom - the setting for her 'Journalist Training School' which students had to have a special 'press pass' to access.
Her lessons around the Windrush scandal were a particular hit with the children and really brought out their sense of justice and understanding of the influence the press can have in reporting events in history. At the end of the project, the class held a graduation ceremony which proud parents and a local BBC Newsreader attended.
Anna Cole, an English teacher at Belle Vue Girls' School in Bradford, inspired her students to write their own poetry following conversations about the fact that the girls didn't think people 'like them' could ever be poets.* The evocative and powerful poetry that the group of 12-year-olds created was featured on the BBC and made into a film as part of its special 'We Are Bradford' programming. Anna is continuing to explore the theme of identity with her students as part of our Young Bradford Poets programme.
Teaching comes with a whole host of challenges, but it is also incredibly rewarding, and we believe it is vital to celebrate each and every teacher, particularly those who go the extra mile to inspire and encourage their pupils to succeed in whatever path they may choose. We are excited to work with many more inspiring teachers, teaching assistants, school librarians and school staff when the new school year begins in September.
For more stories about inspiring teachers, check out #TeacherEffect on Twitter.