National Professional Qualification for Leading Literacy (NPQLL)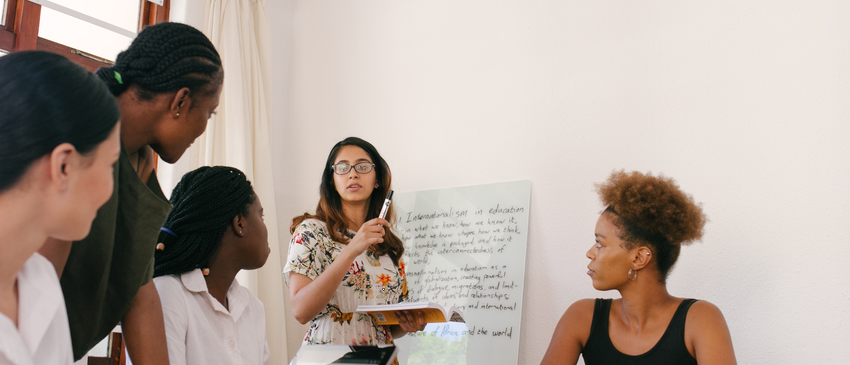 About the NPQLL
In partnership with Education Development Trust (EDT) we are offering the National Professional Qualification for Leading Literacy (NPQLL). This will be a nationally delivered programme, bringing together practitioners from across the country.
Registration is now open for the February 2024 cohort.
The deadline to register for the February 2024 cohort is Friday 2 February.
Course details
The course is available to primary and secondary teachers nationwide.
Participating in the National Literacy Trust's NPQLL will be a unique and exciting opportunity for teachers to collaborate and network with practitioners from a range of settings and geographical areas to build a national learning community of literacy leadership.
Registration is open to all teachers across the country. Live sessions will take place online, in addition to two exclusive in-person events held in a venue in Birmingham with good transport links, one in the autumn term and one in the summer term.
Why choose us
The National Literacy Trust is a thought-leader in literacy and education with nearly 30 years of experience working with schools and communities. We strive to raise literacy levels in the most disadvantaged areas of the UK and support teachers and educators to become literacy leaders in their schools and bring literacy into the heart of their communities.
Who the NPQLL is for
Teachers in primary and secondary schools
Those who have a responsibility for literacy, or are aspirant literacy leaders
What you will learn
Working with the National Literacy Trust you will:
Develop the knowledge and skills that underpin effective literacy leadership
Put knowledge and research into practice
Learn how to support colleagues to become effective teachers of literacy
Collaborate with a professional network
Give pupils access to high-quality literacy support to improve outcomes
Duration, hours of study and costs
Duration: 12 months (plus 3 months for summative assessment process)
Hours of study: 55
Cost: Free to those who meet the scholarship eligibility criteria. The cost for school or self-funded participants outside of the criteria is £901
Registration
Register via the DFE website, and through our partnership provider The Education Development Trust (EDT).
Registration is open for October 2023 and February 2024 cohorts.
The deadline to register for the October 2023 cohort is Friday 6 October.
Enquiries
For any enquiries or problems please contact kate.warde@literacytrust.org.uk, Event and Conferences Manager.
Register at the DFE website