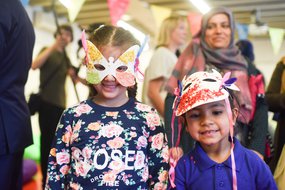 More children in the world grow up multilingual than monolingual. Having more than one language is something that should be celebrated, promoted and supported. Multilingualism stimulates brain development and helps children learn because they can think about their ideas in two (or more) languages.  
Speaking more than one language comes naturally to babies, whose brains are wired for all language. A child who develops good use of their home language (sometimes also called their mother language) is more likely to develop good English. But if parents use English instead, children can lose their mother language, neither language will progress and the child may have problems in both languages. The most important message you can give parents is to keep their home language alive.
At a very young age, a child learns to distinguish and develop the differences between languages used with them and around them. Families should continue to use their home language, talking to their child from the earliest age onwards. This is central for the child's communication, social, and emotional development.  Language feeds the brain and links us to our family, our community and our friends. This is vital for a young child's sense of self. 
Practitioners and professionals working with learners whose first language is not English should develop a good understanding of the child's linguistic and cultural background when they enter a nursery or school and work collaboratively with families. 
More resources to support multilingual families
National Literacy Trust research into multilingualism
Multilingual young people's reading in 2021- This report celebrates diverse linguistic backgrounds and skills of pupils by focusing on multilingual learner reading enjoyment, behaviours and linguistic identity. We focus on 10,000 multilingual young people aged 11 to 16 and explore how much they enjoy reading, how often they read at home and how they feel about reading multilingually. We also discuss their multilingual language identity and recognition of multilingualism, as well their experiences of bullying due to their linguistic background.
Useful links
Mantra Lingua is a publishing house, making resources for the multi-ethnic, multi-lingual classroom in the UK, Sweden, Norway, USA, Australia, Germany and Canada.  Here you can find a variety of resources, including a selection of dual language books, both printed and electronic.
United Nations International Mother Language Day- International Mother Language Day recognises that languages and multilingualism can advance inclusion, and the Sustainable Development Goals' focus on leaving no one behind.
Download files