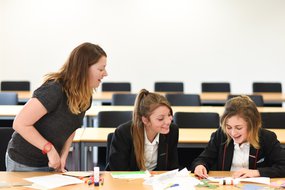 This resource outlines ways that teachers can encourage talk in their secondary classroom, along with downloadable activities to put the ideas into practice.
The resource covers:
Designing tasks that encourage talk
Building confidence in a safe and respectful environment
Scaffolding tasks and skills
Creating speaker roles and listener roles
Engaging and hooking pupils through purposeful and up-to-date tasks, with examples including:
- The culture of celebrity
- Theatre trips
- Research topics in the media
- Poetry presentations
- Rehearsing speeches for group debates
The resource has been created by Christine Thomas, a former Head of English and now an English Consultant, with a proven track record of improving results in schools. She attributes much of this success to encouraging talk in the classroom.
Download files
You might also be interested in